2010 Audi A3 TDI Starts at $29,950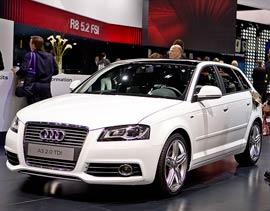 The 2010 Audi A3 TDI with its 50-state-certified diesel engine will start at $29,950, not including an $825 destination charge, when it goes on sale in November.
How does the diesel model compare to the plain old gas version? The regular A3 2.0T begins at $27,270 (excluding the same destination fee), making the diesel a healthy $2,680 more. The A3 TDI has an EPA rating of 30 mpg in the city and an impressive 42 mpg on the highway compared to the base A3's 21/30 mpg city/highway rating.
When compared to similar fuel-conscious luxury competition like the new 2010 Lexus HS 250h, the A3 diesel stacks up favorably. The HS 250h has a base price of $34,200, excluding an $875 destination charge. Because it's a hybrid, the fuel-economy numbers are much better for the city than the highway; it has an EPA rating of 35/34 mpg.