Buick Lineup to Include Three Sedans, Two Crossovers by 2012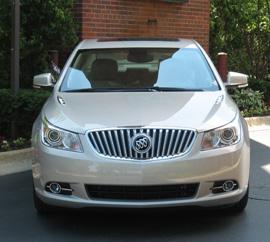 As we reported earlier, GM deep-sixed a new crossover model just weeks after announcing it would join the Buick lineup. We asked Susan Docherty, general manager of Buick-GMC, what that leaves for Buick. She said the five-seater — which was never named — failed in the eyes of media and Buick owners because of execution, not concept. "I do think we need a vehicle that size," she said, "but it can't be a rebadged Saturn Vue."
Docherty said Buick plans to build a "baby Enclave," which will have five seats but is different than the mothballed Vue clone. Her crystal ball says Buick's lineup circa 2011 will include, at minimum the following three sedans and two crossovers.
LaCrosse sedan: A redesigned 2010 model that's available now and will become the flagship car. (The current full-size Lucerne will be phased out midway through 2011.)
New midsize sedan: It's scheduled for the second quarter of 2010 and will likely be called the Regal. The trades say it will be based on the Insignia — a model sold by GM's Opel and Vauxhall brands that won a 2009 car of the year award from a panel of 59 journalists in 23 European countries.
Compact sedan: It's scheduled for late 2011.
Enclave: A current seven- or eight-seat crossover that will remain unchanged through 2011.
"Baby Enclave": A five-seater that's expected in late 2011.
"I'm not saying we can't bring other things into the portfolio," Docherty said, "but in terms of the transformation taking place at this brand, I think this is an awfully good start." One of four remaining GM brands, Buick takes the premium space between Chevrolet and Cadillac, with Acura and Lexus as stated target competitors. "We need to hit every entry out of the park," she said. "It needs to be world-class. That [Vue-based crossover] wasn't perceived as being world-class, so we made the decision to take it out."