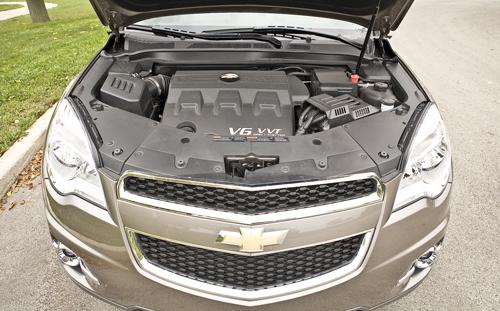 Over the last few weeks, I was able to get into two crossovers with upgraded engines. While both offered more horsepower, I wasn't completely floored by either, and it begs the question of whether they're worth the additional cost compared to their basic offerings. Ford Flex EcoBoost
The Flex has become one of my family's favorite crossovers, winning our vacation challenge in summer 2008 for its combination of comfort, roominess and technological toys. Last week, I drove the 2010 Flex with the EcoBoost engine, a twin-turbo blast from Ford that's supposed to offer V-8 performance with V-6 mpg. Well, Ford has it half right.

The EcoBoost Flex's performance was beyond impressive. Driving the V-6 with all-wheel drive on vacation last year, I found the acceleration to be OK; it was more than enough to get on a freeway or to pass but nothing remarkable. The EcoBoost engine, though, was completely remarkable; my 12-year-old let out an audible gasp the first time I floored it with him in the front passenger seat. He asked repeatedly for me to show that power off anytime someone new got into the car with us.

The downside: I was impressed with the all-wheel-drive Flex's fuel economy last summer when we averaged nearly 22 mpg in a car with five people and enough luggage for all of them over hundreds of miles. Unfortunately, in the EcoBoost I averaged only around 17 mpg, which is about 20 percent worse than the all-wheel-drive V-6, despite the identical EPA ratings for both engines.
Cost: The EcoBoost engine adds about $3,000 to the price of the Flex, and while the acceleration was exhilarating, it ain't three-grand exhilarating.


V-6 Chevrolet Equinox
I was impressed by Chevy's new Equinox, from the styling to the high-quality interior (especially its iPod integration) to the gas mileage. In the four-cylinder version, I averaged upwards of 30 mpg. It wasn't going to win any drag races, but for my family purposes, it had what I needed: plenty of space and great mileage.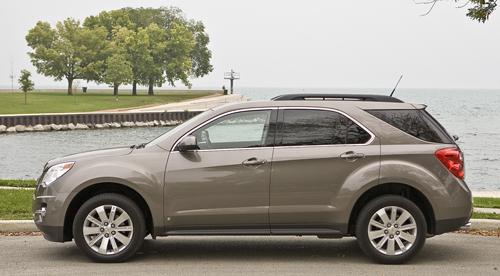 The V-6 is just a $1,500 upgrade, but I'd sooner stick with the four-cylinder version.

The steering in the V-6 is hydraulic, while in the four-cylinder it's electronic. That made the steering wheel seem a lot heavier when teamed to the V-6. In addition, takeoffs were slow and rumbly because of the way the accelerator is tuned,. In a mix of city and suburban driving, I averaged only around 17 mpg. Once I was able to open it up on the highway, I managed to drive the mpgs all the way up to 25 mpg. That was pretty impressive, but all things considered, I'd pass on the extra power and pad my pocketbook instead.

2010|Ford|Flex

2010|Chevy|Equinox