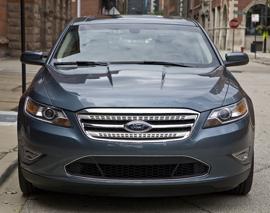 The Cash for Clunkers program was in full effect in August, and I thought we'd see cars bought through the program fly up the Movers chart and big SUVs fall away. In some ways, the cars on the top 10 were Clunker favorites, but Ford's new Taurus and its Flex crossover made the list, too. Ford had four models on the list and Toyota has five.
The Toyota Prius stays on the Movers list for the third month in a row; it's the only car that can make that claim.
It was a bit difficult coming up with losers because so many models have turned over to the 2010 model year, which disqualifies their 2009 counterparts from making the list. Chrysler and Volkswagen take it on the chin because many of their models have not turned over, and it seems they aren't selling quickly either. If you're a performance fan, the Audi TTS is selling very slowly. Maybe there's a deal to be had at your local Audi dealer.
Overall, the average number of days it took to sell a new 2009 or 2010 car declined in August, as you'd expect with the Clunkers incentive. It dialed back from 83 days in July to 82 days in August, the first decline of the year. The full lists are below.
August 2009 Movers
1. 2010 Scion xD: 3 days
2. 2010 Toyota Tacoma: 3 days
3. 2010 VW Jetta sedan: 3 days
4. 2010 Ford Escape: 5 days
5. 2010 Lexus HS 250h: 5 days
6. 2010 Ford Focus: 6 days
7. 2010 Scion xB: 6 days
8. 2010 Toyota Prius: 6 days
9. 2010 Ford Taurus: 7 days
10. 2010 Ford Flex: 8 days
August 2009 Losers
1. 2009 VW Rabbit two-door: 180 days
2. 2009 Dodge Caliber: 172 days
3. 2009 Chrysler Sebring: 166 days
4. 2009 Chrysler PT Cruiser: 165 days
5. 2009 Dodge Avenger: 162 days
6. 2009 Audi TTS: 162 days
7. 2009 Jeep Compass: 161 days
8. 2009 Hummer H3/H3T: 160 days
9. 2009 Dodge Charger: 159 days
10. 2009 VW GTI two-door: 157 days
About the Lists
The Movers and Losers lists report the average number of days it takes to sell models from the day they arrive on the lot until the final paperwork is signed by a buyer. This is not a days of inventory list like you may find on other sites. We're now focusing on only the 2009 and 2010 model years.
For Movers, we only list vehicles that pass a certain threshold of sales in order to weed out limited editions, models that are being phased out or other factors that might skew the numbers or otherwise inaccurately portray popularity. For the Top 10 Losers, we lower that threshold greatly because low sales bolster the Loser claim, though they could also indicate other factors, like a model being phased out.