Prius Sales Outmuscle Muscle Cars in August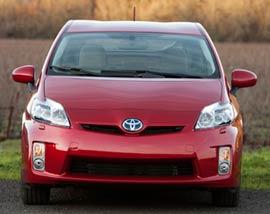 It would probably be best if while reading this blog post you listen to something clichéd like Bob Dylan's "The Times They are A-Changin'."
While muscle-car enthusiasts will comb over the meaning behind the Chevy Camaro beating the Ford Mustang in sales for the third straight month, we couldn't help but notice that the Toyota Prius beat the August sales for the three staple muscle cars — including the Dodge Challenger — combined.
With an assist from Cash for Clunkers, the 50-mpg Prius moved 18,886 units in August compared to 8,680 Camaros, 6,289 Mustangs and 1,132 Challengers (a total of 16,101 units).
The Prius also outsold the reliably robust Dodge Ram (17,514 units in August).
Overall, the market share of hybrids reached 4.5% in August, according to the U.S. Department of Transportation. That's up from 3% of all vehicle sales for June 2009 before Clunkers began.
2010|Toyota|Prius