2010 Honda Accord Crosstour Gets Four-Wheel Drive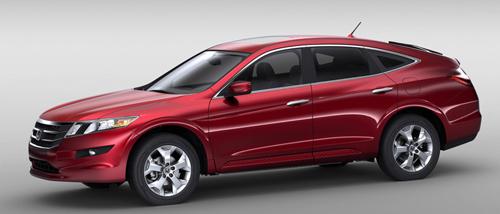 Today, Honda released the first interior images of the upcoming 2010 Honda Accord Crosstour. The company also confirmed that the crossover would come with a standard 3.5-liter V-6 and have optional four-wheel drive when it goes on sale in November. We were hoping the Crosstour would get Acura's Super-Handling All-Wheel Drive but understand the need to keep the Crosstour from impeding on the new Acura ZDX.
Inside, the Crosstour looks a lot like a standard Accord, which is not a surprise. However, the cargo area has an interesting layout. Because the wheels are not near the crossover's rear, the wheel wells don't intrude into the back of the cargo area. Instead, they pop up toward the front, just behind the rear seats. This should add to the car's usable cargo space. There's also an underfloor compartment that's 8 inches deep and looks to be sizable, as well. It can also be removed easily, kind of like a large plastic bin. The cargo cover is reversible with heavy-duty plastic on one side and carpet on the other, similar to the Acura RDX.
Honda has also put switches in the cargo area to lower the rear seats flat. More photos below.