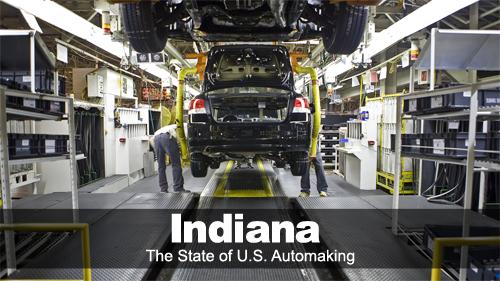 By Patrick Olsen

Cars.com
It's been a year since
we last visited Indiana
, and it's been nothing short of a cataclysm for the U.S. auto industry:
First came the credit crunch, which kept even the best-qualified shoppers from getting a car;
Then the economy tanked, driving sales down to a level that hadn't been seen in decades;
Chrysler and GM asked the Bush administration for a bailout, and then had to turn to the Obama administration to pursue "prepackaged" bankruptcies.
What's the national landscape today? General Motors is in the process of shutting or shedding several of its nameplates, and Chrysler has been bought, in part, by Italian automaker Fiat. The federal government's Cash for Clunkers program brought some temporary — if not frenetic — help in August. But September sales fell again to the low levels of early 2009, even as there is more optimism that the economy is finally beginning to turn around.
Today, roughly 11,000 Indiana workers toil in motor vehicle manufacturing, down 19 percent from a high of more than 13,600 in late 2007, according to the U.S. Bureau of Labor Statistics. Those who've kept their jobs have also seen a lot of change over the past year:
In Mishawaka, the Hummer H2 Assembly Plant is quiet — part of GM's restructuring — and Hummer itself is on the verge of being bought by a Chinese company;
In Lafayette, Subaru was one of only a couple automakers that didn't see sales fall off a cliff in early 2009;
In Greensburg, a boom spurred by a new Honda plant that speculators were hoping for never materialized, but longtime residents feel confident that they'll see growth over time;
In Fort Wayne, a pickup truck assembly plant gained work at the expense of out-of-state assembly plants;
And in Elkhart, tens of thousands were laid off in the wake of the RV industry collapse, but some companies are building what they hope are the pickups of the future.
We spent time in each of these communities, which represent a microcosm of the national auto industry, and talked to auto workers, local business owners, state officials and CEOs. Read our series and find out what they see for the future of "The Crossroads of America."
Next...
Mishawaka: Caught in a Global Bind