Mercedes-Benz System Stops Car at Red Light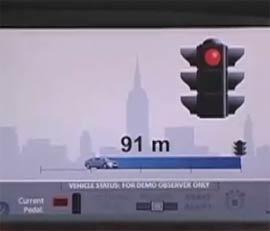 Mercedes-Benz is working on a Smart Stop system that would automatically halt a car at a red light if the driver fails to see it. The wireless safety system would coordinate with intersections and other vehicles using wireless receivers.
The vehicle's "conversation" would include a network that shares real-time local traffic data; it also would give a warning if a driver is accelerating when coming to a red light.
Don't count on seeing this technology any time soon, though. It will require the installation of smart intersections that can communicate with the vehicle. This will mean a fundamental reinvention of German or U.S. intersections, which would require action on the federal, state and local levels as well as a ton of dough.
Smart Stop builds on current driver-assist systems like lane departure warning and proximity detectors, but a car stopping itself for a red light is a substantial leap forward for safety systems that correct driver behavior.
Mercedes-Benz will rely on a handful of trial installations. The automaker hopes the technology will become standardized in the next decade and appear at intersections across the country.
In Future America, Car Stops You (BoingBoing.net)