Movers and Losers: September 2009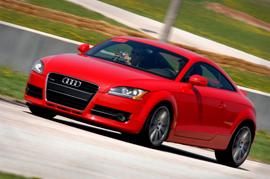 While September sales took a step back from the August sales frenzy fueled by the Cash for Clunkers program, they didn't fall off a cliff like some predicted they would. Many new 2010 models were just arriving at dealerships, which is shown in our top 10 Movers list. But the 2010 Toyota Prius and 2010 Chevy Equinox had been on sale for a number of months.
Losers include a number of luxury cars and convertibles, not likely to be lusted after in fall. There's one poor Saturn on the list, too.
The average number of days it took to sell a new 2009 or 2010 model was 80 days, which is two days better than in August and the second straight decline of the year.
Movers
2010 VW Jetta SportWagen: 3 days
2010 Honda CR-V: 5 days
2010 Toyota RAV4: 5 days
2010 Toyota Prius: 7 days
2010 Dodge Challenger: 8 days
2010 Honda Civic: 8 days
2010 Subaru Impreza: 8 days
2010 Toyota Tacoma: 8 days
2010 Audi Q7: 9 days
2010 Chevy Equinox: 9 days
Losers
2009 Saab 9-3 convertible: 322 days
2009 Audi TT convertible: 294 days
2009 Saab 9-3 sedan and wagon: 272 days
2009 Audi TT coupe: 238 days
2009 Audi S8: 234 days
2009 Mitsubishi Eclipse Spyder: 231 days
2009 Audi A8: 225 days
2009 Mercedes-Benz SL63: 216 days
2009 Saturn Aura: 212 days
2009 Mercedes-Benz ML63 AMG: 212 days
About the Lists
The Movers and Losers lists report the average number of days it takes to sell models from the day they arrive on the lot until the final paperwork is signed by a buyer. This is not a days of inventory list like you may find on other sites. We're now focusing on only the 2009 and 2010 model years.
For Movers, we only list vehicles that pass a certain threshold of sales in order to weed out limited editions, models that are being phased out or other factors that might skew the numbers or otherwise inaccurately portray popularity. For the Top 10 Losers, we lower that threshold greatly because low sales bolster the Loser claim, though they could also indicate other factors, like a model being phased out.