New Car Tracker: 10.22.09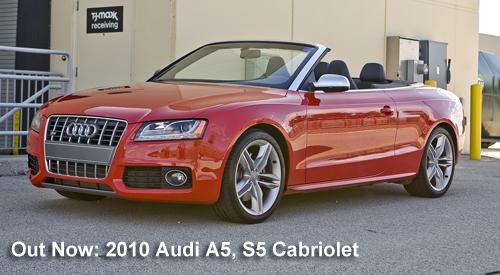 Despite summer coming to an abrupt end for us Northerners, a slew of new convertibles have just gone to market. The 2010 Audi A5, S5 Cabriolet, 2009 Infiniti G37 convertible, 2010 Nissan 370Z roadster and 2010 Lexus IS 250C and 350C are now at dealerships teasing most of the country as winter approaches. As always, we remind our readers that we don't list models that are rumored; we only list confirmed vehicles.
Updated information in bold.
2010 Acura TSX V-6: Out now
2010 Acura MDX: Fall
2010 Acura RDX: Out now

2010 Audi A5, S5 Cabriolet: Out now
2010 Audi A3 2.0 TDI: First quarter of 2010
2009 Audi Q7 TDI: Out now
2010 Audi S4: Out now
2010 Bentley Mulsanne: Summer 2010
2010 Buick LaCrosse: Out now
Buick five-passenger crossover: Late 2010
Buick five-passenger crossover plug-in hybrid: 2011

2009 BMW 335d: Out now
2009 BMW X5 35d: Out now
2010 BMW 7 Series with all-wheel drive: Fall 2009
2009 BMW Z4: Out now
2009 BMW X5 M: Late 2009
2009 BMW X6 M: Late 2009
BMW X1: 2011
2009 Cadillac CTS-V: Out now
2010 Cadillac CTS coupe: 2010
2010 Cadillac CTS wagon: Out now
2010 Cadillac SRX: Out now
2010 Chevrolet Camaro: Out now

2011 Chevrolet Cruze: First half of 2010
2010 Chevrolet Equinox: Out now
2011 Chevrolet Orlando: 2010
2011 Chevrolet Spark: 2011
2011 Chevrolet Volt: Production begins late 2010
2010 Chevrolet Corvette, Grand Sport: Out now
2010 Dodge Ram heavy-duty: Late 2009
2009 Dodge Challenger SE, R/T, SRT8: Out now
2009 Dodge Ram: Out now
2010 Fisker Karma: End of this year
2011 Ford C-Max: Late 2011
Electric Ford Focus: 2011
2010 Ford F-150 Harley-Davidson: Out now
2010 Ford F-150 Raptor: Out now
2011 Ford Fiesta: Early 2010
2010 Ford Focus: 2010
2010 Ford Fusion, Fusion Hybrid: Out now
2010 Ford Mustang: Out now
2010 Ford Taurus/Taurus SHO: Out now
2010 Ford Ranger: Out now
2010 GMC Terrain: Out now
2010 Honda CR-V: Out now
2010 Honda Insight: Out now
Honda CR-Z Hybrid: 2010

Honda Fit Hybrid: 2010
2010 Honda Accord Crosstour: November

2011 Hyundai Sonata: 2010
2010 Hyundai Tucson: Early 2010

2011 Hyundai Equus: Summer 2010
2009 Hyundai Elantra Touring: Out now

2010 Hyundai Genesis: Out now
2010 Hyundai Genesis coupe: Out now
2010 Hyundai Accent: Out now

2011 Infiniti M: Spring 2010
2012 Infiniti M35 Hybrid: 2011
2009 Infiniti G37 convertible: Out now

2010 Jaguar XF, XFR: Out now
2010 Jaguar XJ: Early 2010
2011 Jeep Grand Cherokee: 2010
2011 Kia Sorento: January 2010
2010 Kia Forte: Out now
2010 Kia Soul: Out now
2010 Kia Forte Koup: Out now
2010 Land Rover Range Rover Sport: Out now
2010 Land Rover Range Rover: Out now

2010 Land Rover LR4: October 2009
2010 Lexus LS: Late October
2010 Lexus HS 250h: Out now

2010 Lexus RX 350: Out now
2010 Lexus RX 450h: Out now
2010 Lexus IS 250C and 350C: Out now

2010 Lincoln MKT: Out now
2010 Lincoln MKZ: Out now

2010 Lincoln MKS w/EcoBoost engine: Out now
2010 Maserati GranCabrio: Spring 2010
Mazda2: Late 2010
2010 Mazda CX-7: Out now
2010 Mazda3 sedan, hatchback: Out now

2010 Mazdaspeed3: Out now

2010 Mercedes-Benz S400 Hybrid: Out now
2011 Mercedes-Benz SLS AMG: Mid-2010
2011 Mercedes-Benz E-Class wagon: June 2010
2010 Mercedes-Benz E-Class coupe: Out now
2010 Mercedes-Benz E-Class sedan: Out now
2010 Mercedes-Benz ML450 hybrid: December
2009 Mini Cooper convertible: Out now
Mini E: Limited offering of 500 in California, New York and New Jersey
2010 Mitsubishi Lancer Sportback: Out now

2009 Mitsubishi Lancer Ralliart: Out now
2010 Nissan Altima: Out now
2009 Nissan Cube: Out now
2010 Nissan 370Z roadster: Out now

Nissan Leaf: Late 2010

2011 Porsche Cayenne Hybrid: 2010
2010 Porsche 911 Turbo: January 2010
2010 Subaru Outback: Out now
2010 Subaru Legacy: Out now
Suzuki Kizashi Hybrid: 2011
2010 Suzuki Kizashi: Winter
2010 Toyota 4Runner: Late October/early September
2010 Toyota Tundra with new V-8: Out now
2010 Toyota Camry, Camry Hybrid: Out now
2010 Toyota Prius: Out now

2009 Toyota Venza: Out now
Toyota Prius plug-in: 2012
2010 Volkswagen GTI: Out now

2010 Volkswagen Golf: Out now
2011 Volvo C30: First quarter 2010
2010 Volvo XC60: Out now