Vikings Offer Free Parking for E85 Vehicles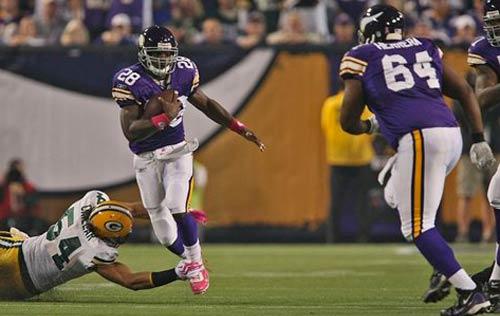 Minnesota Vikings fans who own flex-fuel vehicles have an extra incentive to get to each of the football team's eight home games early. The first 25 flex-fuel vehicles to arrive will get free parking at the premium lot near the stadium, while everyone else who drives will have to plop down the standard $40 to park.
Additionally, even fans who don't own flex-fuel vehicles, which can run on either gasoline or E85, can register to win a trip to Soldier Field to watch the Vikings take on the Chicago Bears on Dec. 28 for "Monday Night Football." To register for "Vikings Road Trip, Fueled By E85," click here; we're warning you, we live in Chicago and Lake Michigan will undoubtedly be kicking up something fierce by Dec. 28.
The Vikings have partnered with the American Lung Association for the promotions, which are meant to raise awareness of "cleaner-burning E85" and ethanol-based fuel. Minnesota is a large producer of corn-based ethanol; Iowa, which also makes a lot of ethanol from corn, doesn't have an NFL team.
E85 meets new stringent emissions rules just like regular gasoline. It emits less carbon monoxide than gas, but the fuel produces more acetaldehyde, a toxic pollutant. There are many environmentalists who believe the carbon footprint for corn-based ethanol is much more detrimental than fossil fuels.