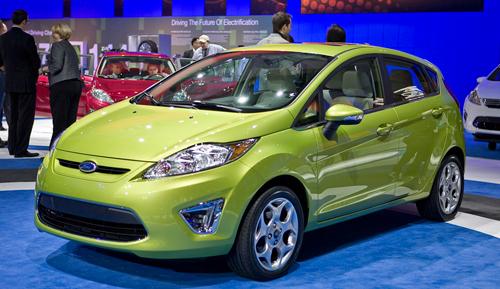 American automakers aren't known for high gas mileage or high-quality small cars, but that's changing. The Los Angeles International Auto Show saw the introduction of two smaller cars from Chevrolet and Ford, both of which promise highway fuel economy of up to 40 mpg as well as high-quality interiors and features usually found on more expensive models. Have they reached small-car Nirvana? Yes. And no.
When the 2011 Chevrolet Cruze compact sedan and the 2011 Ford Fiesta subcompact sedan and hatchback come to market, each will offer a version that achieves up to 40 mpg in highway driving, based on preliminary estimates. The Cruze's high-efficiency version will mirror the XFE (eXtra Fuel Economy) version of Chevy's 2010 Cobalt, the compact car it replaces. Currently, that Cobalt achieves 25/37 mpg city/highway compared to the regular non-turbo model whose mileage ranges from 25/35 mpg to 24/33 mpg depending on the transmission. It does so mainly through the use of higher gearing and low-rolling-resistance tires, and it requires using a manual transmission.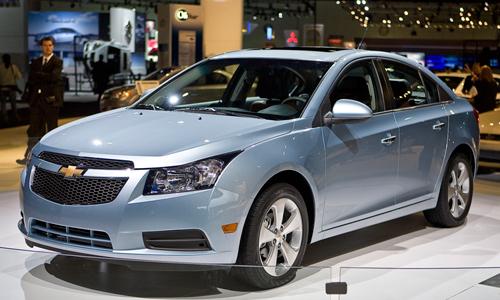 Details on the high-efficiency Cruze version are scarce, but Chevrolet says it will have some of the same provisions as the Cobalt XFE, and possibly some aerodynamic treatments. A six-speed stick shift will be required, and this immediately removes the efficient version from consideration for most buyers. In 2009, more than 92 percent of American car buyers have chosen automatic transmissions over manuals, according to J.D. Power and Associates. The efficient model also requires the turbocharged 1.4-liter four-cylinder rather than the base 1.6-liter; since it's a higher-output engine, it's almost certain to be an upgrade. In other words, the low starting price and the high-mileage number might not be found in the same car.
The Ford Fiesta, which hits dealerships in spring 2010, is a similar story. The 40-mpg rating comes from a $795 Super Fuel Economy Package, which adds some aerodynamic treatments among other provisions not yet announced. Although the Fiesta S sedan starts at $13,320, Super Fuel Economy is offered on the SE trim level, which starts at $14,320. SFE requires the optional six-speed automatic transmission, which adds $1,070. So in the Fiesta, 40 mpg highway comes — with no additional options — at a minimum price of $16,860, including the destination charge. The upside? It has the automatic transmission.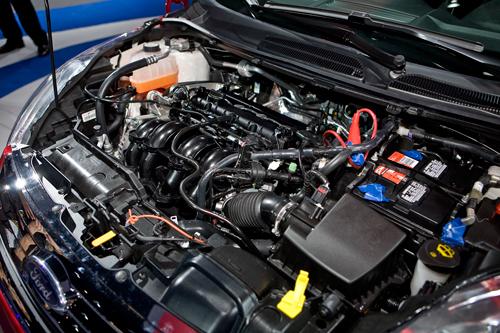 Shoppers are likely to be perturbed if they're lured into dealerships by the 40-mpg advertising blitz, only to find the best mileage comes at a price — especially when high mileage used to come from the cheapest models. Perhaps riskier, the emphasis on high-mpg versions might distract from the more important message — the fact that the regular versions are very efficient on their own. The Fiesta will join a subcompact car class dominated by the Honda Fit, Nissan Versa and Toyota Yaris. The most efficient of these, the Yaris, tops out at 29/36 mpg. Ford estimates the regular Fiesta will hit 29/38 mpg with the five-speed stick and 30/38 mpg with the automatic.
The Cruze isn't fully rated yet, but at 25/37 mpg, the Cobalt with XFE has the highest highway mileage among compact cars. Its city mileage is trumped by competitors including Honda, Mini and Toyota. The non-XFE Cobalt is rated only 2 mpg lower on the highway. So if the new Cruze can hit 40 mpg in any form, the base EPA rating should be very competitive — especially given its size, which is larger than other compacts, let alone subcompacts like the Fiesta.
Higher cost isn't necessarily an obstacle for efficient-car shoppers. A fuel-sipping car is pointless if buyers don't want it, and that means features and quality too, not just performance. This is where cars like the Cruze and Fiesta could strike gold. In Europe and elsewhere overseas, small cars are the heart of the market because of small roads and high gas prices. As a result, small-car prices are much higher, and automakers are able to recover their investment in higher quality and upscale features. In the past, domestic automakers would have taken a beating if they'd priced feature-rich, high-cost versions of these cars as "economy cars" in the U.S.
The Fiesta and Cruze will change that, as will the next-generation Ford Focus, which currently shares only its name with the European version. The automakers hope to exploit economies of scale with cars of fundamentally higher quality, saving money through manufacturing flexibility and how they equip the cars. The base Cruze and Fiesta have impressive quality, and many of the features that have made their ilk too expensive to sell domestically in the past are now available as options. The Fiesta illustrates this best with features rare to unheard of in subcompact cars: leather seats, heated seats and side mirrors, keyless entry, remote and keyless engine start, and a dual-clutch automatic transmission.
Even with these measures, automakers run the risk of reaping thin profits, but Mike Omotoso, senior manager of global powertrain forecasting at J.D. Power and Associates, said the profitability picture looks encouraging. "We've already seen the average cash rebates drop this year, and that's partly because manufacturers are building more in line with sales, instead of overproducing and having to basically give stuff away," he said. "They're now matching supply and demand."
Meanwhile, the dollar is weak, taking away an advantage that Japanese brands held for decades. Perhaps the landscape has changed enough that domestic automakers won't have to sell small cars at razor-thin margins or at a loss, which they often justified in the name of providing the full range of car sizes and to offset their high-profit, low-mileage trucks. Violating Corporate Average Fuel Economy requirements brings hefty fines — something Omotoso said will remain a factor, especially as 2016's challenging 35.5 mpg standard approaches.
As always, sales and profit levels both depend on demand for small and/or efficient cars. "The demand in large part will be driven by gas prices," he said. "No matter what the government says, consumers have to have more incentive."