2010 Audi R8 Spyder: Through Ian's Lens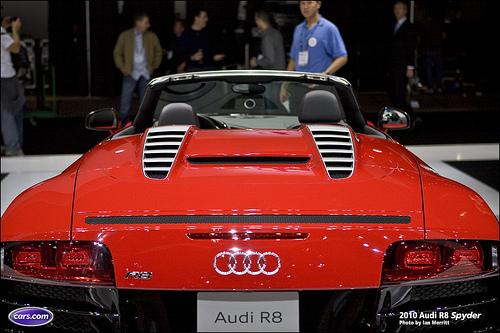 If you were an automobile manufacturer and you wanted to restyle your most outstanding, most head-snapping sports coupe supercar, where would you start?
If you're Audi and you're talking about the R8 sports coupe, you would start by offering a different engine to enhance the driving and performance of the car, and then you would chop off the top and make it a roadster. Sigh … making pretty cars prettier is a tough job, but someone has to do it.
At the 2009 Los Angeles Auto Show, the 2010 Audi R8 Spyder was on display, and after day two, journalists were still lined up to gawk and take a seat in it. Although the car looks almost identical (sans metal roof) to the coupe, gone are the gaudy carbon fiber-esque "blades" (Audi's word for the body panels, not mine) from around the rear tire intake vents. I may have praised the carbon fiber panels when the R8 was revealed a few years back, but as a design element, the look has grown sour after repeated viewing. The R8 Spyder now feels and looks more fluid from nose to tail, as uninterrupted painted body panels complete the profile between the two axles.
Even if you remove the show lighting and the paid model, the R8 Spyder shines with class, and its wide low stance screams "winding road destroyer." The car does have one flaw: By removing the roof, Audi has put a deck cover on the back of the car that is not see-through. Gone is the view of the gorgeous engine in all its carbon fiber splendor. But hey, one negative in a sea of positives can't be that bad, right?
As one might suspect, I have an affinity for red cars on show floors under bright white lights. If anyone needs me, I'll be here in Chicago chewing on my fingernails waiting for the North American International Auto Show in Detroit in January. Not many people would admit to that. Check out the full-screen player below.