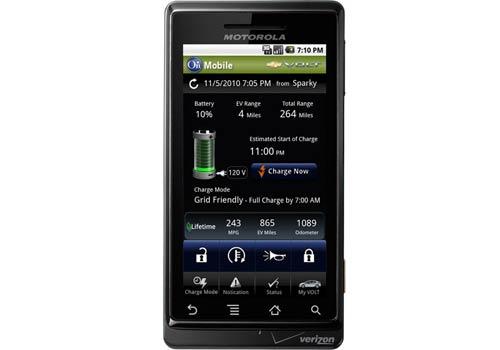 GM will use the Consumer Electronics Show to unveil a new mobile phone application that uses OnStar technology to help owners of the new Chevy Volt save even more fuel. The new app will work on touch-screen phones in addition to the iPhone, including the Motorola Droid and Blackberry Storm.
The OnStar EV Lab developed a program that uses OnStar's communications system to allow drivers to keep an eye on their car's battery pack. The app automatically contacts OnStar, which contacts your car to find and display the battery's condition.
Oh, but there's more: the Volt application will allow the driver to set up automated notifications so he or she can remember to plug in the car or be notified if the vehicle becomes unplugged or loses power for some reason. Even better, a "grid-friendly" mode lets the driver set the car's charging time for off-peak hours when utility rates are cheaper.
The app also allows direct control of climate systems, allowing drivers to set the temperature while the car is still plugged in and easing the amount of juice needed from the battery later.
The idea for GM is to help owners maximize the utility and life of the battery for the best possible result. If you have a smart phone like the iPhone, Droid or Blackberry, you can download a demo version of the app at OnStarMobileDemo.com.
Check out the YouTube demo video after the jump.
GM and OnStar Launch Sophisticated Mobile App for Volt (Autoblog)