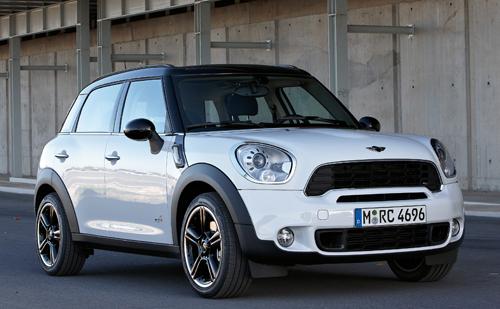 Competes with: VW Tiguan, Honda CR-V, Land Rover LR2
Looks like: A Mini SUV, which it is
Drivetrain: 120-hp, 1.6-liter four-cylinder or 184-hp, turbocharged 1.6-liter four-cylinder; front- or all-wheel drive
Hits dealerships: Early 2011
In 2008 Mini introduced its Clubman, a slightly elongated version of its popular Cooper hatchback. That "wagon," however, wasn't enough for buyers looking for a larger vehicle or the option of all-wheel drive. Those prayers have been answered with the all-new Mini Cooper Countryman, an actual crossover with Mini's quirky British style. However, fans will have to wait at least a year before they can buy one.

The fact that the Countryman has optional all-wheel drive and four traditional doors should be enough to please the masses, but there is a lot more to like. Mini is adding variable valve timing to the Cooper S model's turbo engine for better fuel economy. It also packs 12 more horsepower than the Cooper S hatchback or Clubman. The base engine gets a minor bump in power, too, from 118 to 120. No mileage estimates were given, but expect them to be similar to the current 28/37 mpg city/highway for the base model and 26/34 mpg for the Cooper S version. Seventeen-inch wheels come standard on the Cooper, and 18-inch wheels are standard on the Cooper S. A John Cooper Works edition will come to market sometime in 2011.

What about the cargo area? Is it big? Not really.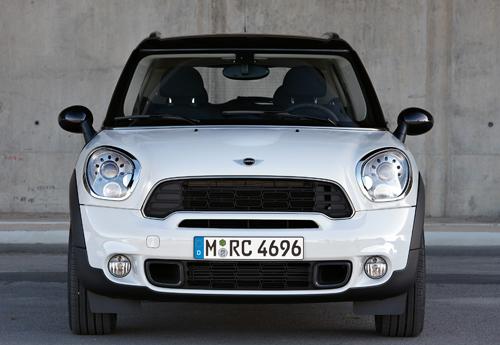 Still, at 12.2 cubic feet it dwarfs a traditional Mini's 5.7 cubic feet and bests the Clubman's 9.2 cubic feet. With the rear seats folded flat, the Countryman's cargo area expands to 41 cubic feet versus 24 and 32.8 for the Cooper and Clubman, respectively. A Volkswagen Tiguan, which has one of the smaller cargo areas in the compact SUV class, comes in at 23.8 cubic feet and 56.1 cubic feet when the seats are folded. A VW Golf four-door hatchback rates 15 and 46 cubic feet, respectively.

So it isn't a do-everything SUV. But what sets the Countryman apart is both the augmented utility compared with the Clubman and Cooper, as well as the first use of all-wheel drive in a modern Mini.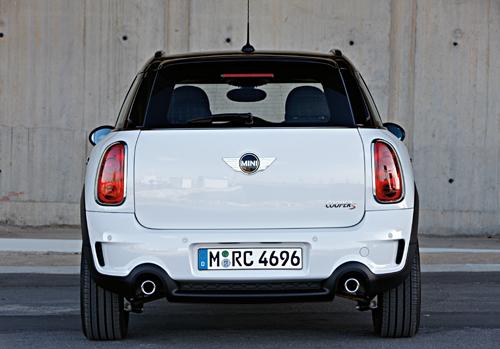 It sounds like an interesting system, too. All-wheel drive is available as an option on either the Cooper or Cooper S Countryman and sends 50% of the power to the rear wheels during most driving. Under heavy acceleration, it can send all of the power to the rear wheels. Along with the fact that Mini says the Countryman will feature the same trademark handling of the rest of the lineup, this all-wheel drive could make the Countryman quite a performer.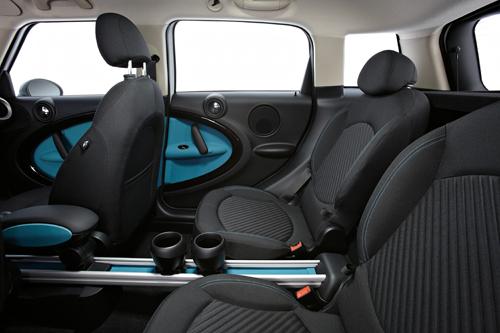 The interior looks a lot like the rest of the Mini lineup but with a much larger backseat. It comes standard as a four-seater, but a three-seat rear bench can be added as a no-cost option. Four-seaters use an innovative center storage rack in both seating areas where Mini accessories can clip on to hold drinks, cell phones, sunglasses and other items.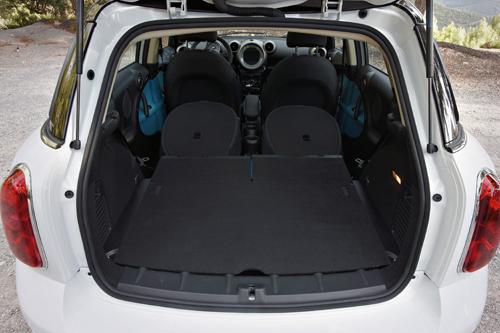 The rear seats slide forward and back and recline, which should make it the most comfortable Mini yet. A panoramic moonroof will also be an available option.
Click here for a full photo gallery.