2010 Chicago Auto Show: Winners and Losers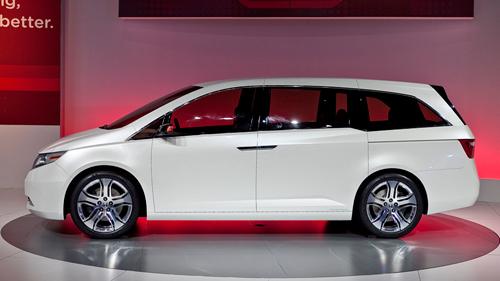 This year's Chicago Auto Show doesn't have a long list of major debuts, but it does feature some important models that consumers are interested in. Here's how we scored the new production and concept cars that will be on display for the next two weeks at McCormick Place.
Honda Odyssey Concept
David Thomas: Winner
For such a radical redesign, it sure doesn't look radical. In fact, I don't think it's any more advanced than the current model, which I like a lot. The highlight for me — from a design standpoint because we don't know what the interior will be like — were the rear taillights, which reminded me of an Audi. I was shocked that Honda would drop a mileage figure of 19/28 mpg city/highway, which will likely do more to sway buyers than the van's looks.
Kelsey Mays: Winner
Minivans are inherently utilitarian and their styling generally reflects that. You can make a two-box car look only so sleek, but Honda did its best. When the production Odyssey hits dealerships this fall, we'll be interested to see how it stacks up against Toyota's redesigned Sienna. Either way, minivan buyers — those who remain, at least — win.
Mike Hanley: Winner
I like the direction Honda is heading with the Odyssey Concept's styling. Its sleekness sets it apart from the slightly bulbous new Sienna. Like Dave, I like the taillight treatment. If Honda's recent concepts are any indication, the production Odyssey shouldn't look much different than what you see here, and that's a good thing.
Joe Wiesenfelder: Winner
Agreed on the looks. It's not especially sporty or anything, but it's a little less boxy, and it's certainly not the wrong design direction, which one could argue Acura took a year or so ago. This was an easy one; I think minivans are great and anyone who's secure enough to buy one is even greater.
---
Kia Ray Concept
DT: Loser
This reminded me of what auto shows used to be like: flashy concepts with no real purpose or intent, except the Ray didn't even look cool enough to warrant the exercise. Kia's done such a good job of making its new cars look good that I think they should have spotlighted them instead of this.
KM: Loser
I'm with Dave. The Ray is too far from production with too many pie-in-the-sky features. On the upside, the seats have a mesh backing that's similar to our office chairs — which, fortunately, are a lot better than our office coffee.
MH: Loser
The Ray's design seemed caught between a whimsical design study and a car that might one day see the light of day, and as such, it didn't satisfy in either respect. However, there is a hint of reality in this concept: It features an alternative-fuel powertrain and Kia plans to debut one in the near future.
JW: Loser
I used to be the only person who thought far-out concept cars were pointless; apparently my work here is done. Maybe the silver lining of this troubled economy is that automakers will recognize they don't need "design exercises" and won't return to producing them, even when revenues pick up.
---
2011 Ford Edge
DT: Winner
Personally, I love this grille. It may be a bit much for some people but, for me, it works. I like the darker version on the Sport model, too, but the 22-inch wheels are indeed over the top. Inside is where it's at, though. Besides the touch-sensitive buttons, which seemed a little glitchy in these show cars, the materials are a huge step up for Ford. Even the switch to turn on the headlights feels much more expensive than most crossovers in this class.
KM: Winner
Whatever you think about the Edge's face, it's hard to argue that the cabin doesn't look sharp. Gone are the old Edge's low-rent facings; materials are improved, although not quite to Nissan Murano levels. Ford's new center controls score more style points. The automaker's turbocharged 2.0-liter EcoBoost four-cylinder is intriguing, but there's no word on whether it needs premium fuel. Turbo engines usually do, and that would erode some of its mileage advantages.

MH: Winner
I'm not a huge fan of the Edge's new grille. The current one is kind of showy and the new one seems over the top to me. I agree with the others that Ford really stepped things up inside, and the touch-sensitive controls with the Sony-branded audio system are really slick. Whereas the prior cabin's design was nothing to marvel at, this one is.
JW: Winner
Nice interior and a grille that's improved, if you don't mind how similar it is to those of Audi and Volkswagen. I remain unmoved by touch-sensitive buttons and pads, and I suspect they're merely cheaper to manufacture; in time we may conclude this emperor is buck naked.
---
2011 Hyundai Azera
DT: Loser
Um, Hyundai, you know the new Sonata sits next to the new Azera, right? The Sonata with cloth seats seemed more luxurious and definitely more advanced inside than the Azera. But, hey, there's a lot of room in that backseat to zzzzzzz.
KM: Loser
The Azera's new nose reminds me of when sister brand Kia refreshed the Optima. Both have a lot going on under the headlights, and neither one lights my fire. Given the opportunity, I'm surprised Hyundai didn't implement more changes inside the Azera. Certain areas, from the window switches to the climate controls, look dated. On the heels of a new Tucson and Sonata — both well-coordinated styling efforts — the Azera feels lukewarm.
MH: Winner
There's no question the Azera's update isn't as dramatic as the Sonata's, but all of the little tweaks Hyundai made to the front end come together for a more appealing look. The interior hasn't changed, but perhaps an update is in the works. I agree that the Azera isn't particularly exciting, but if you're looking for a larger car, it's rather fuel efficient with a 20/28 mpg rating for the base V-6.
JW: Winner
It's not so much the car as the decision to give it a light rather than extensive refresh. Fact is the Azera is a little redundant now that there's a more luxurious Sonata. It's a bit roomier in some dimensions, but there's a Genesis sedan for anyone who wants more room and luxury. Keeping the Azera in the lineup might make sense, but investing more money in it probably wouldn't. It was a nice car for a particular buyer, and now it's a little nicer. Well played, Hyundai.
---
2011 Ford Transit Connect Electric
DT: Winner
This only wins for me on PR points and because it's an electric vehicle that will have a practical purpose, but that's about it. It won't save the planet, but it might save UPS and other companies some money on gas.
KM: Winner
The Transit Connect's electric range — up to 80 miles — won't suit rural contractors, but those in the city should find it ample. We've driven the gasoline-powered Transit, and it feels downright carlike compared to the herd of Ford Econoline, Dodge Sprinter and Chevrolet Express utility vans available. We'll have to crunch the numbers to see whether the hit to a small business' electric bill is worth the savings in gas, but given other electric-car examples, it likely will be.
MH: Winner
Even though it's clearly designed for businesses, the electric Transit Connect will be sold at Ford dealerships so regular consumers interested in driving gas-free could buy one. The question of how much it will cost is a big one — and one that's unknown for the time being — but Ford deserves points for bringing this to market.
JW: Winner
The electric version's value is mostly as a test bed for battery-electric vehicles a year ahead of the Focus Electric, which will face a broader and likely tougher audience. My postwar-immigrant upbringing taught me to get by with less, so I appreciate the gas-powered Transit Connect, which is just enough for operators who would otherwise be stuck with hulking gas hogs or ill-suited consumer models. The electrification is icing on a thrifty cake.
---
2011 Toyota Avalon
DT: Winner
I didn't love the outside, but the Avalon's buyers don't care what the car looks like or they wouldn't have bought the last one. The interior upgrades are enough to sway those looking at a Taurus and its somewhat cramped confines to this spacious sedan.
KM: Loser
Toyota needs compelling products to turn the corner from its current straits. Is the restyled Avalon one of them? Maybe, but, at first glance, I'm not sold. It's a roomy full-size sedan with, finally, an interior fit for its class. The big-Camry face didn't wow me, although I liked it a little more than the Azera's. Improved gas mileage is a worthy end, but the means to get there — mostly a retuned six-speed automatic — could signal even less responsiveness than the outgoing Avalon's slow-witted six-speed. And the trunk, for a car this size, is still too small.
MH: Winner
The Avalon received what it needed most, and that was a new interior. The old dashboard and console with its numerous covers has been replaced by a much nicer-looking design, and the car retains the spacious rear seat with a reclining backrest that it's known for.
JW: Winner
I view smaller cars differently, but for this manufacturer in this car class, daring styling is a risk hardly worth taking. Instinct tells me design is less important to a Toyota buyer, so a little updating here and there should be enough to keep the Avalon competitive. Like Hyundai with the Azera, I think Toyota made the right moves with this refresh.
---
2011 Ford Shelby GT500
DT: Winner
For some reason this Shelby GT500 looks much more reserved than previous generations despite its improved performance. That's OK, though, because I prefer the sleepers out there. It will also be the first car many show-goers see when they walk into the main hall. That's quite a face to greet you and kick off your day.
KM: Loser
Don't get me wrong, I have plenty of Mustang love. The last GT500 we drove was wicked fun, and this one promises to be all that and more. But given the times we live in, I doubt that a 550-horsepower performance coupe with a starting price near $50,000 is what consumers need.
MH: Winner
It may not be what consumers need, but I think the Shelby GT500 is what a lot of people going to the auto show will want. The new supercharged V-8 looks like a work of art and the cabin features upscale cues like a cue-ball shifter. It will be interesting to see how much the 2011 Mustang GT with its new 412-hp, 5.0-liter V-8 closes the performance gap with the GT500, but there's a burliness to this car that the GT can't match.
JW: Winner
Once again, Mays' Vulcan genes have suppressed his human ones. The ultimate Mustang is even more ultimate. How is that not a winner? Before the auto show opened to the public, a video crew was ogling and practically fondling the GT500, and there will be plenty of that over the days to come. Auto shows need cars like these, and so do automakers, which do themselves no favors by abandoning performance models to satisfy critics. I don't know whom I'm arguing with here, but I'm arguing. Keep your hands off my horsepower.