Cars.com Launches Free iPhone App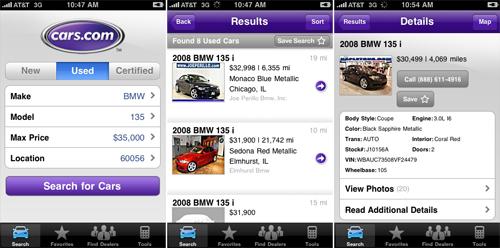 Download App via iTunes Now
You can browse Cars.com's vehicle listings and access many of our most popular features on any smartphone, but today we launched a new app specifically for the iPhone. The app not only lets you navigate our listings, but you can browse through them with geolocation enabled so you can get directions to a dealer with a single touch.
You can also save your favorite listings, dealers and search parameters such as price range and year.
Once you find an interesting listing, you can add notes to it, like how it ranks on your search. There's also an option to add your own photo to the listing if you see it in person and want a reminder of a feature that stood out.
You can download the free app at the iTunes store by clicking
here
.
If following the latest car news on the go is your thing, you can visit the mobile version of KickingTires at "
https://www.cars.com/kickingtires/iphone/
" and create an icon on your iPhone homepage.