Chicago Blackhawks 2010 Camaro Debuts at Auto Show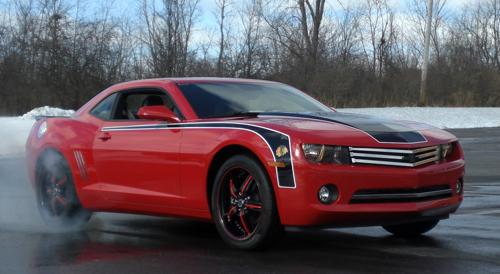 If there's one way to please us Chicagoans, it's to plaster an awesome car with our favorite sports team that's currently not sucking (another awesome shootout win last night). At this year's Chicago Auto Show, you'll find exactly that with a custom 2010 Chevrolet Camaro decked out in a Blackhawks theme.
This 2010 Camaro was created by local aftermarket parts manufacturer RealWheels Corporation. Down the Camaro's side is a graphic commonly called a hockey stripe, which is used here at the highest level of appropriateness. The 'Hawks theme carries inside with custom-sewn seats and the Blackhawks insignia etched into billet on the door sills.
If you're a die-hard Blackhawks fan, you'll be glad to know you can take this Camaro home by registering for a chance to win it at the 2010 Chicago show. Public days at Chicago's McCormick Place run Feb. 12-21.
Full gallery: Chicago Blackhawks 2010 Chevy Camaro Photo Gallery

Blackhawks-Themed Camaro Coolest Car at Auto Show
(NBCChicago)