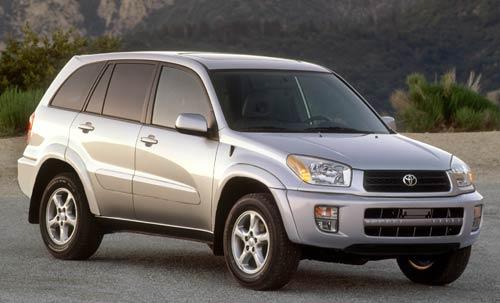 As if it didn't have enough on its plate, Toyota is now coming under scrutiny for denying an extended warranty to owners of
2001-03 RAV4s experiencing transmission failures, according to Wheels
. Toyota began an inquiry into the issue last August after more than 300 complaints were filed with the National Highway Traffic Safety Administration.
The complaints involved the vehicle jerking, failing to accelerate or suddenly slowing down. Many of the complaints included descriptions of the transmission failure as "dangerous" and "scary."
It's important to note that drivers can severely damage their transmissions just by driving poorly and that the transmission is covered under Toyota's powertrain warranty of six years or 60,000 miles.
California might create a problem, though, if the California Air Resources Board determines that it is unreasonable for the transmissions to fail and create increasing emissions. If California persuades Toyota to offer an extended warranty, owners in other states may feel slighted.
In 2006, Toyota sent dealers a technical service bulletin warning of the transmission problem, but the automaker has never notified owners.
In other Toyota recall news, the Detroit Free Press reports that Michigan Democratic congressman Bart Stupak will hold the chairman's seat Feb. 23, when the House Subcommittee on Oversight and Investigations examines Toyota's sudden acceleration recall.
This angered members of the House Oversight and Government Reform Committee because Stupak moved his hearing ahead of theirs by two days, making it the first government hearing on Toyota's much-publicized recall. Because Stupak is a Michigan Democrat, his move will surely spark outcry from lawmakers who see Stupak's ties to Detroit automakers as compromising.
Texas Gov. Rick Perry has now joined other governors with Toyota plants in their states to defend the company against recent scrutiny, according to the Detroit News. He wrote a letter to Congress calling Toyota "a valued employer and corporate citizen and an integral part of the Texas economy."
Indiana Gov. Mitch Daniels is heading to Washington for the hearings as well in a show of support for the automaker.