Toyota Sees Decline in Interest on Cars.com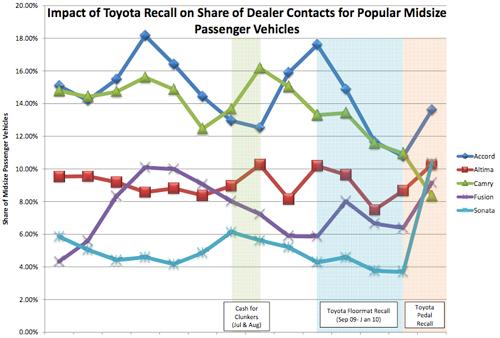 As Toyota's recall woes continue, they have made a very real impact on how shoppers are acting on Cars.com. Consumer interaction with dealers has declined dramatically for several top-selling Toyota models after two recalls over the past few months.
In the all-important midsize sedan segment, the Camry was neck-and-neck with the Honda Accord in consumer contacts over the past year. But since the first recall (for floormats) in the fall, the Camry has dropped behind Accord, but it still led all other models. After the second recall in January, the Camry fell to fifth in consumer contacts.
Which car has benefited the most? Well, the Accord (also declining before the Toyota recall) shot upward and remains in first place. But the new Hyundai Sonata — which launched in January with an aggressive ad campaign, including several Super Bowl commercials — shot up from eighth place to second, followed by the Nissan Altima and the Ford Fusion.
The compact Corolla has fallen as well. Once in a close battle with the Honda Civic and Volkswagen Jetta for first, the Corolla has now fallen to eighth in consumer contacts.
While the decline is clearly fueled by the current controversy, Toyota is also clearly in danger of losing the interest of today's car shopper. In addition, the rising quality of Toyota's competition could keep buyers from coming back the next time they're in the market.