Why is No One Buying the Mazda6?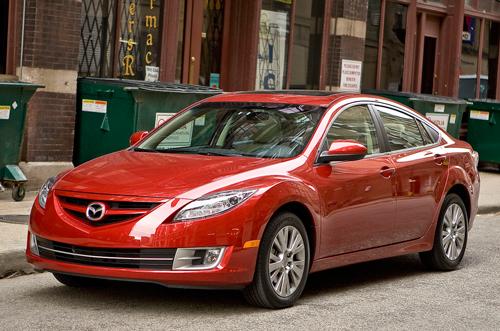 UPDATE: Mazda spokesman Jeremy Barnes contacted us to clarify that the 900 jobs lost at the Flat Rock, Mich., plant aren't due to slow sales of the Mazda6, which was widely reported online last night and today. Barnes says the plant has improved efficiency so much that the lines move 35% more quickly than they did last year and can now produce more vehicles than they did in 2009 — around 100,000 — with one shift instead of two, which led to the layoffs.
Barnes suggested the 33% dip in Mazda6 sales was indicative of the segment. Nissan Altima sales were down 24% for 2009, Honda Accord sales were down 22% and the Toyota Camry was down 18%, so the Mazda6 is still lagging the well-established competition.
Our original poll below remains valid, though, as response in our comments and on Twitter has largely agreed with the assessment that the Mazda6 is an overlooked model in its segment.
ORIGINAL POST: Sales of the Mazda6 midsize sedan, redesigned just last year, are so slow that Ford is laying off 900 workers at the plant that assembles it alongside the Mustang in Flat Rock, Mich.
We've tested the four-cylinder base Mazda6 and the powerful V-6, and both impressed for different reasons. The Mazda6 also holds up well against the competition in interior room and value. And we think it looks good, too.
So why isn't it catching on? Sales in 2009 were down 33.7%, and the redesign was out for the entire year. The Mazda3, which was redesigned halfway through 2009, saw its sales drop just 12.3% in 2009. Car sales overall for Mazda dropped 19.6% in 2009, but the Mazda6 was by far the biggest drag on that number.
The Mazda6 currently has a 0% financing deal for 60 months, plus $500 cash back and no payments for three months. The offer expires March 1.
The only real negative about the car is its mileage, which is 1-2 mpg less than the comparable Camry and Accord. Why do you think the Mazda6 is having a tough time selling? Check out our poll below.