You'll Never Guess Which GM Vehicle Has the Youngest Buyers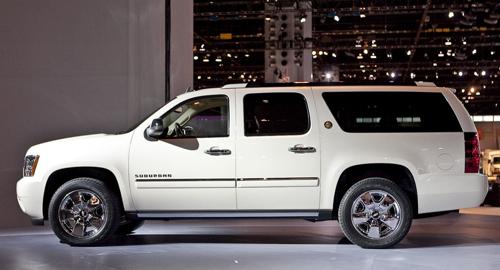 The Chevrolet Suburban is the longest-running production nameplate in the auto industry, and one thing about their buyers is rather unusual, according to Mark Clawson, Chevrolet division marketing manager for Tahoe/Suburban/Avalanche/Traverse.
"Out of every segment that GM has vehicles in — from small cars to luxury cars — full-size utility buyers are GM's youngest on average," Clawson said.
The average age of Suburban buyers is 48; for full-size utility vehicle buyers, the overall industry average is 53 years old, he said.
"We have Gen X and Gen Y buyers that have young families and they are buying the Suburban because they like the space and utility it offers," Clawson said. "A smaller vehicle won't work for them." Nor it seems will a minivan.
Suburban buyers are also among GM's most affluent customers outside of the luxury segment. Their average income is $120,000 per year.
Earlier this week at the 2010 Chicago Auto Show, GM debuted the 75th anniversary edition of the Chevrolet Suburban full-size SUV (shown above). You can find out more about it here.