Mazda Sky Engines Promise Diesel in 2012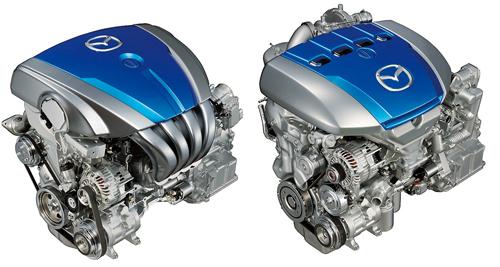 Mazda announced more tidbits about its future engine plans today in New York, but it's still holding back specifics. But the big news is that Mazda will bring a small diesel engine to the U.S. in 2012.
Labeled the Sky-G for gasoline engines and the Sky-D for diesels, the two engines will roll out in 2011 and 2012 globally, finding their ways into various Mazda models.
The company didn't reveal exact specifications, but it did say the Sky-G will be 15% more fuel efficient than the 2.0-liter four-cylinder currently in the Mazda3, which gets 25/33 mpg city/highway.
The Sky-D will be introduced in the U.S., and the company says it will be used in its "next generation midsized diesel car" and will get up to 43 mpg. We're not sure what car that would be, as the Mazda3 and Mazda6 have been recently redesigned.
Besides these uniquely tuned engines, the company also announced sophisticated, new six-speed automatic transmissions that will act like — but we're guessing aren't technically — dual-clutch transmissions, allowing for increased fuel economy of 5%.