Recall Alert: 2007-2008 Honda Odyssey, Element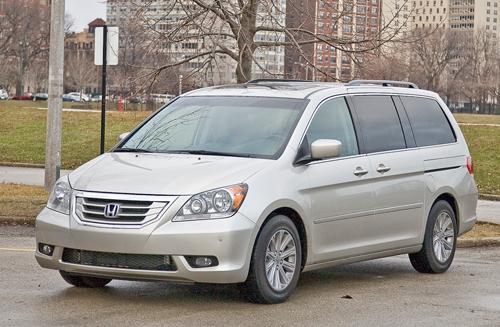 Honda is recalling 344,000 2007-2008 Honda Odyssey minivans and 68,000 2007-2008 Element SUVs due to a faulty antilock brake modulator, which is considered part of the stability control system. Air can slowly enter the part and cause issues over time. The fault directly affects the brake pedal feel and height. Over time, the pedals can start to feel "soft" and the height can decrease.
The recall has been submitted to the National Highway Traffic Safety Administration, and notices will be mailed to owners after April 19. When owners receive the notice, Honda advises them to schedule a service appointment with their dealer immediately.
According to Honda spokesman Chris Martin, before this announcement, owners with this issue would likely have been told that there was air in the brake system and it would have been bled, fixing the problem, until the system started to slowly let in air again.
Honda did not post the number of complaints, but we checked NHTSA's website, and as of today we found 140 complaints for 2007-2008 Odysseys for brakes, a majority for the faded-brake issue. Ten of those included crashes, with seven reported injuries. There were 17 complaints with one crash and injury for the 2007-2008 Element. We did find at least one duplicate complaint (which we didn't count). However, we didn't cross-check all 157 complaints.
Martin said the pedal feel would decrease gradually over time, but a number of complaints registered mileage between 2,000 and 5,000 miles before noticing reduced brake feel. Some, less.
Interestingly enough, in my
review of the 2008 Odyssey
I noted that the brakes were actually "firm and precise" compared with others in the segment. Honda vehicles overall have a reputation for more aggressive braking than their competitors, so if you notice any sort of "mushy" feeling in an Odyssey or Element, it could have an issue.
Concerned owners will have to wait until the April 19 date to get more details via Honda's
www.recalls.honda.com
site or at (800) 999-1009 and select option 4. You can contact NHTSA's vehicle safety hot line at any time at 888-327-4236.