Weekend Athlete: 2010 Chevrolet Equinox
It's been crazy the past seven months, and it's kept me from putting cars through the Weekend Athlete tests. My testing skills were a bit rusty when I took the 2010 Chevrolet Equinox out, but it turned out to have a few surprises despite being a straightforward little crossover.
Two things really stood out: the backup camera embedded in the rearview mirror and the sliding rear seat.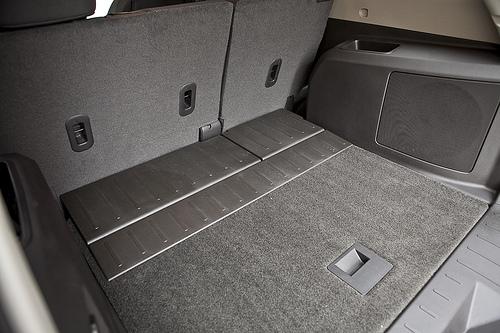 GM's system of integrating the rearview camera into the mirror is something I always thought was slick. It gives you the function of a rearview camera without having to spring for a (usually expensive) navigation system. It's a good setup others should copy.
The rear seats adjust by sliding forward, which I'm told is helpful when you ferry small children. (I'm not sure, but I'm guessing that sliding the seat closer to you brings the little buggers to within striking range.) Ed. Note: Actually, you want them further away so they don't kick your seat all the way to grandma's house.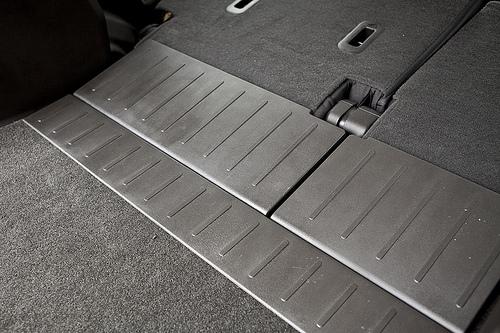 What I liked was GM took the trouble to build flaps onto the bottom of the rear seats, so that when you slide the seat forward and fold it down, the flaps cover the gap between the folded seats and the rear cargo area. It's a continuous floor. This makes loading anything much, much easier.
What's interesting about the Equinox is how large it looks on the outside compared with some of its competitors, namely the Toyota RAV4 and Honda CR-V. I'd say the cargo room is comparable, but not more than either the RAV4 or CR-V (I've taken both to races). That size disparity might bother some people who expect more cargo room from a larger car. It doesn't bug me because it's not like the Equinox is the size of, say, a Chevrolet Traverse – it's still a compact crossover. Plus, there was enough cargo room for me to do what I wanted to do.
To determine how the Equinox did overall, you can look at it and say that since it has no major flaws, it's a good Weekend Athlete choice. Or you can say that since it doesn't have any truly amazing features, it's just average. I'd say it's a solid performer that's above average and worthy of a test drive.
Imagine your favorite grinder from your favorite sports team, and that's what the Equinox is.
Of course, that's just the Weekend Athlete's view. For a more complete roundup, check out a longer-term, more in-depth test here.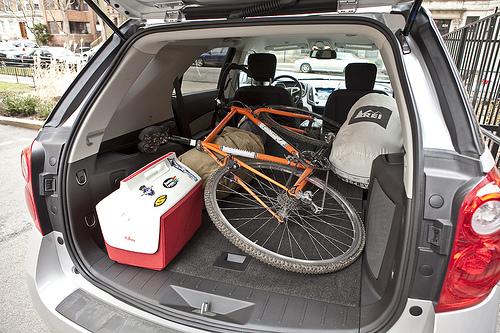 Weekend Athlete Scores (Out of 10)
Ease of loading gear – 8: The only weirdness here is the handle to lower the tailgate is on the lefthand side. Otherwise, it's a nice, large area that could easily handle camping gear for three or four people.
Ease of seat operation – 6: Lift the lever, flop over. I do wish the seats folded completely flat, though, so I have to mark it slightly lower than average for that.
Bike hauling – 8.5: The cargo area is big, so my largest bike slipped right in. The continuous load floor is nice – I didn't catch the handlebars on anything loading or unloading.
Locker room cred – 8: Better than average because the Equinox doesn't try to wow you with luxury features. The interior surfaces also look like they'd be pretty easy to clean up after a muddy race.
All-around – 8: I'd say it's worth checking out and test-driving if you're in the market for a small crossover that will do its share of race and camping duties.