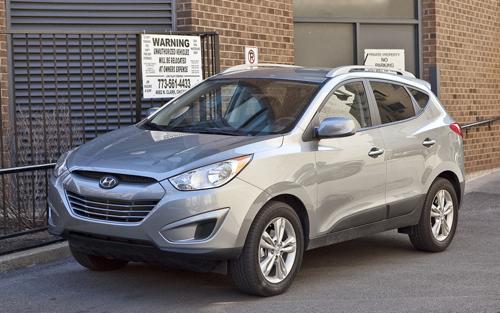 Compact crossovers are a natural choice for the Weekend Athlete crowd because they're not as expensive as larger cars, they're easy to park, and most will carry a lot of toys. Some do the job better than others, and Hyundai's Tucson excels at part of my standard test.
What the Tucson does well is camping and other outdoor activities not requiring large equipment. It has a low load floor, and the cargo area is a nice size for taking a friend or two camping, but I didn't faint out of joy at its size.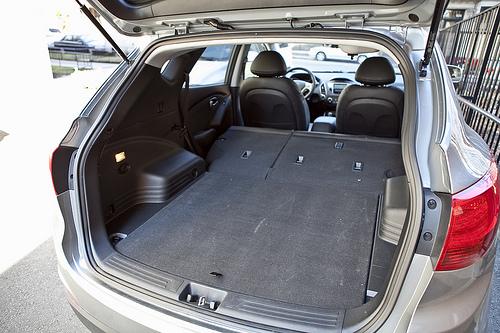 Folding the seats is easy. It's just a simple flip of the lever. Speaking of flipping, small hooks flip down from the back of the rear seats. They are, I imagine, designed to hold grocery bags. They practically scream, "Hi there! I'd like to snag your sleeping bag or your bike's handlebars. Is that cool?" Not a fan of that.
As a side note, I don't see theses hooks being particularly handy for groceries because you'd need to reach across the cargo area to access them But we have an army of people testing cars for families, and I'm sure one of their legions has checked it out. (See an in-depth review here.)
The Tucson really comes up short in the bike-carrying arena. It's just not quite long enough to fit my bike, though I do ride a larger bike.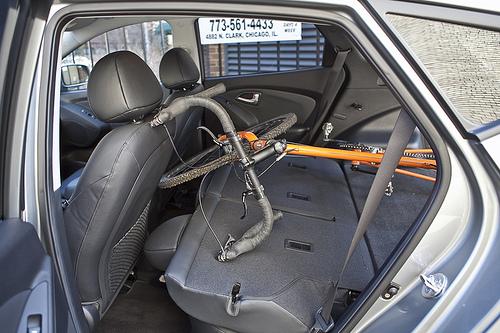 I really had to turn the handlebars to fit the bike. That's OK when you're carrying a nice, clean road bike, but if you're carrying something muddy (as my cyclocross bike is) it's not so hot. Many other compact crossovers do a better job at this, like this one and this one.
That's a pretty good summation of the Tucson: Others are better. Now, if you ride a smaller bike or only ride clean road bikes, then I could see the Tucson making you happy. Ditto if you never carry a bike. Then I think the Tucson will be OK — not great — at what you're going to use it for, compared to the competition.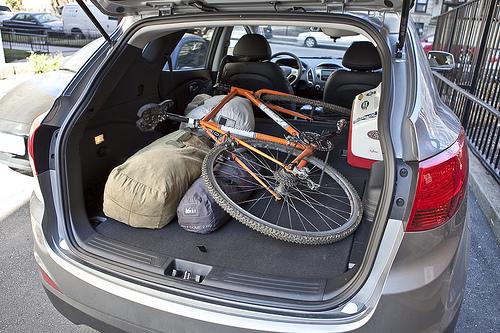 What's interesting is that this compact crossover category is getting so crowded with good offerings, I'm starting to think they need their own test to separate the good from the great. Maybe I should take up kayaking.
Weekend Athlete Scores (Out of 10)
Ease of loading gear – 7.5: Sure, it's a small vehicle, but it performs fine for this segment.
Ease of seat operation – 6.5: It is easy to do, and the load floor, while not flat, is close enough to flat to still be useful.
Bike hauling – 5.5: Shorter bike riders won't notice a problem, but folks with larger bikes will. At least I didn't have to remove a wheel to get my bike in back.
Locker-room cred – 7: It's suitable for camping and about average for hauling a bike, so it doesn't dominate this category.
All-around – 6.5: This relatively low score is less a statement of how good or bad the Tucson is and more a statement of how strong and crowded the compact crossover category is.