Crossovers Get Smaller as Category Grows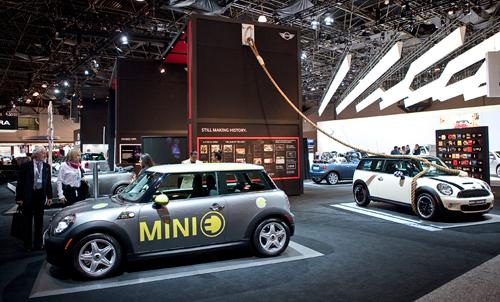 Several introductions at this year's New York International Auto Show certified that the class of compact crossovers is getting larger — with models that are getting smaller. Powered as much by increasingly stringent fuel-economy regulations as by customer demand, automakers are rolling out models that further blur the lines between crossovers and cars.
Models such as the top-selling Ford Escape, Honda CR-V and Toyota RAV4, which J.D. Power and Associates classifies as compact crossover utility vehicles, combine the height, hatchback versatility and optional four-wheel drive of SUVs with the greater fuel and space efficiency of cars; this explains why their popularity has grown. According to J.D. Power, the compact "CUV" category made up 2.3 percent of the market in 2000. In 2005, it had grown to 6 percent, and despite declines in overall market volume in 2009, compact crossovers have reached a 10.5 percent market share.
Ironically, one of the auto show's highest-profile crossovers came from Mini, purveyor of one of the smallest cars on the market. The 2011 Mini Cooper Countryman crossover, which will hit U.S. dealerships in February 2011, is 15.7 inches longer than Mini's base car, called the Cooper, and 6.3 inches longer than its extended model, the Cooper Clubman. It's a few inches taller than its siblings and has the raised look of a crossover, as well as optional all-wheel drive. Though it's large for a Mini, the Cooper Countryman is relatively small as crossovers go, with roughly 12 cubic feet of cargo volume behind the backseat and a total of 41 cubic feet once the backseat is folded flat. This puts it in league with cars such as the Mazda3 four-door hatchback, as well as two other downsized crossovers introduced in New York, the Mitsubishi Outlander Sport and Nissan Juke Sport Cross.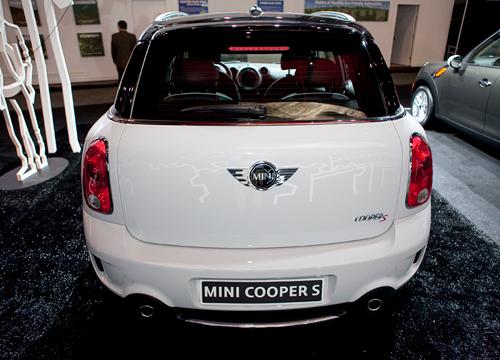 Jim McDowell, vice president of Mini USA, said the Countryman isn't comparable to most other small crossovers. "It is if you work off of dimensions and specifications, but others don't have wheels at the corner of the car," he said. "They don't have the same space utilization on the inside." Cars.com was impressed with the Countryman's passenger space, especially in the backseat. McDowell also said the crossover will distinguish itself with a choice of regular and turbocharged four-cylinders and sporty handling. "It drives like a Mini," he said.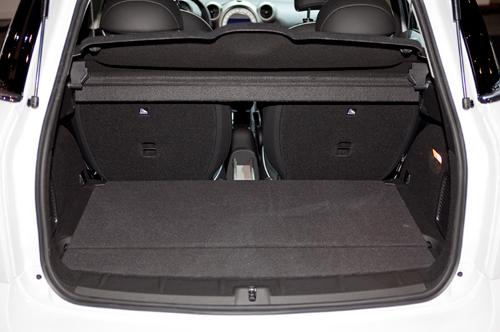 The 2011 Mitsubishi Outlander Sport may share the Outlander name, but it's smaller than the company's traditional compact crossover by more than 14 inches in length. The new model's cargo volume and price — roughly $19,000 — are closer to those of the Mitsubishi Lancer Ralliart wagon, but Mitsubishi spokesman Maurice Durand said the Outlander Sport is likely to attract a different buyer. "It's a little different consumer," he said. "Not quite as sporty." The ironically named Sport will debut with a 148-horsepower four-cylinder, but Durand said a turbocharger "might be something you see later. Never say never."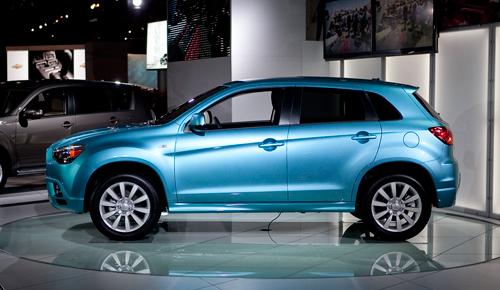 An impressive EPA-estimated 31 mpg in highway driving also makes the Outlander Sport more efficient. "The whole car is a fuel-economy mission," he said. "It's a product with a tremendous amount of global potential. This segment's pretty hot in Europe, as well. It's a nice alternative to a sedan."
The "Sport Cross" part of the Nissan Juke's name means sport crossover, reflecting Nissan's intentions with its new model, which is smaller than the company's mass-market Rogue. Due to hit our market this fall priced under $20,000, the Juke will have a 180-hp, turbocharged four-cylinder. Ensuring sport credibility, it will offer a six-speed manual transmission as well as a continuously variable automatic transmission. All-wheel drive will be an option, too. The Juke is comparable to the Countryman in length, but it had the snuggest interior of the crossovers shown at the New York show.

Chris Woodruff, senior manager of the Nissan model line, said the Juke competes with the Mazda3 hatchback, Volkswagen GTI and Suzuki SX4, which are typically considered hatchbacks rather than crossovers. The smaller crossovers become, the blurrier the line between car and crossover. "I don't think either [classification] would be incorrect necessarily," Woodruff said. "We prefer to call it a crossover."
Depending on whom you ask, the term crossover extends to cover boxy models like the Kia Soul, Nissan Cube and Scion xB, whose styling doesn't emulate truck-based models like most crossovers do. Woodruff said the Cube and Juke are both crossovers, but they're lower-volume models than the mass-market Rogue, and are aimed at young buyers. "We sort of see the person who's going to buy a Cube as being a different mindset, I suppose," he said. "[Juke buyers] are looking for something that gets them noticed, that makes a statement, that's a little bit more aggressive both in styling and terms of sporty capability."
If smaller crossovers are so close to existing wagons and hatchbacks in terms of interior space, what's behind the new movement? "I think it's a lot about style," said Jeff Schuster, executive director of forecasting for J.D. Power and Associates. "Put a different label on it, and maybe give it a little more ground clearance and maybe a more aggressive front end," he said, and you have a hatchback that's more acceptable to Americans.
BMW, which will bring its subcompact X1 crossover to the U.S. in 2011, has already learned this lesson. "In the U.S. we've worked hard to make wagons fun and cool to own, but the American public seems to gravitate toward a crossover and SUV," said BMW spokesman Tom Plucinsky. He added that the wagon version of BMW's midsize 5 Series, which is a "huger seller" in Germany, is being discontinued here because it's outsold 30 to 1 by the X5 sport activity vehicle crossover. The X1, whose capacity is close to that of the 3 Series wagon, will come in under the X3, which is the company's current compact crossover.
"Wagons and hatchbacks are difficult sells in the U.S., and it seems if you change the DNA of the vehicle a little bit and turn it into a crossover or an SAV or SUV, it seems to work much better for people."