Ford Fusion Hybrid Earns Cost Back Fastest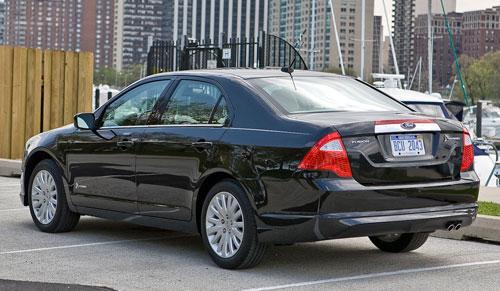 With only 5.6 years to earn back the premium a driver pays for its hybrid drivetrain, the Ford Fusion Hybrid is the hybrid vehicle that pays off the quickest, according to the San Francisco Chronicle.
The price discrepancy between the hybrid and non-hybrid models is a relatively slim $3,200, so at current gas prices, drivers are likely to break even in just under six years.
The Chronicle looked at several hybrids and found it will take awhile to earn your money back compared with non-hybrid versions. The Mercury Milan Hybrid takes 13 years to break even, the Toyota Camry Hybrid will take 15 years, and the Honda Civic Hybrid 17 years.
We have a minor dispute with the break-even numbers for the Honda Insight and Toyota Prius, which the Chronicle put at 16.5 years and 20 years, respectively. Because they were matched against non-hybrid models — in this case, the Honda Fit and Toyota Yaris — the numbers look much worse because those are entry-level cars. Anyone who's been inside both a Prius and a Yaris knows the cost difference reflects far more than just the hybrid engine.
Of course, all these numbers get tossed out the window with any fluctuations in gas prices. As someone who's been covering gas prices for the past three years can attest "at current prices" is a phrase that is nearly meaningless.
7 Hybrid Cars: Will They Save You Money on Gas? (San Francisco Chronicle)