2011 Cadillac CTS Coupe on the Streets of Chicago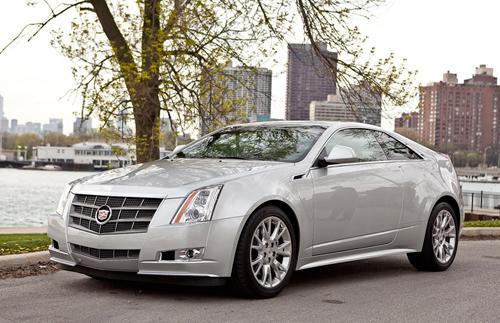 Cadillac spokesman Nick Twork dropped by our Chicago offices this morning to take us for a spin in an early production CTS coupe. The car hits dealerships this summer, and journalists won't get to drive it until later this spring. So, coffee in hand, we hopped in the passenger seat and learned some new tidbits about the car.
With a standard direct-injection 3.6-liter V-6, Cadillac plans to position the CTS coupe slightly upmarket of the sedan. Pricing has yet to be announced, but the 3.6-liter CTS sedan starts at $41,565 for 2010, so the coupe could start somewhere in the mid-40s.
The CTS coupe won't be offered with the sedan's 3.0-liter base V-6, at least for now. Its nominally wider rear track and higher final drive ratio — with automatics, 3.73 versus 3.42 in the sedan — should make for a "more lively" driving experience, Twork said. Zero-to-60 mph acceleration times could be a few tenths quicker than the 3.6-liter sedan's mid-6-second times, he estimated.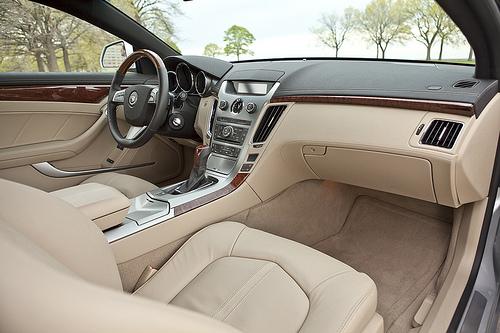 Inside, the coupe has a unique black headliner; it's a lighter color in the sedan. As we noted
during last December's Los Angeles Auto Show
, the coupe ditches the sedan's traditional door handles for Corvette-like electronic, button-actuated ones.
A few other changes across the entire 2011 CTS lineup are also worth noting.
In keeping up with the competition, Cadillac will now offer a heated steering wheel. Like before, heated and cooled front seats are also available.
You'll be able to get a backup camera without ordering the navigation system; it goes in the rearview mirror. That's not a new trick, but the CTS coupe's mirror-embedded screen is the first we've seen with tracking outlines that correspond to steering angle — meaning your intended path changes as you turn the wheel. It's an enhancement usually reserved for pricey nav-system setups, if it's offered at all.
The balky manual transmission, which we haven't praised in past CTS models, has been improved. There's smoother clutch take-up and better shifter precision, Twork said.
The optional six-speed automatic now allows paddle shifting without moving the gearshift to its manual gate. Twork championed the cause: "If the [BMW] 3 Series does it, why can't we?" he recalls asking GM engineers.
Outside, the fender vents have a new design.
We'll keep you posted on anything else we learn, and stay tuned for driving impressions once we get a production model in the Cars.com fleet.