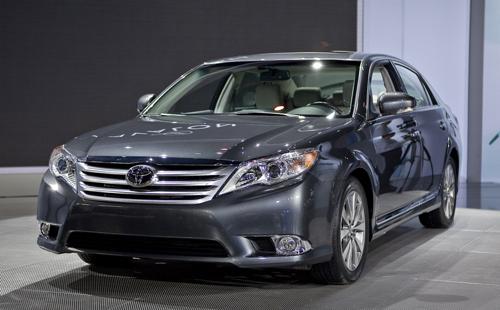 Our monthly list of swift-selling models is back. And it seems that new cars and trucks from the 2010 and 2011 model years sold pretty rapidly in April, staying on lots an average of 46 days.

We've extended the Movers list to 20 models, while losers remain just 10 deep. But we've added some of our own personal picks of solid buys that take a much higher average number of days to sell; shoppers may want to take advantage of these models' dust-gathering abilities.

The lists and our methodology are below. We know this list often leads to debate, and there are a variety of reasons why a car may have a short stay on lots, but we welcome you to voice your opinions in the comment section.

Movers
2011 Toyota Avalon: 6 days
2011 Ford F-250: 7 days
2010 Hyundai Tucson: 10 days
2011 Honda Pilot: 12 days
2010 Toyota Highlander: 12 days
2010 Toyota RAV4: 12 days
2010 GMC Terrain: 13 days
2010 Subaru Outback: 13 days
2011 Hyundai Sonata: 14 days
2010 Chevy Equinox: 14 days
2010 Audi Q7: 15 days
2010 Lexus LS 460: 15 days
2010 Toyota 4Runner: 15 days
2010 Mercedes-Benz E550: 16 days
2010 Mercedes-Benz GL550: 16 days
2010 Acura MDX: 18 days
2010 Land Rover LR4: 18 days
2010 Mercedes-Benz GL450: 18 days
2010 VW Jetta SportWagen: 18 days
2011 Toyota Sienna: 19 days

Losers
2010 Jaguar XFR: 192 days
2010 Suzuki SX4 Sportback: 286 days
2010 Mitsubishi Eclipse coupe: 173 days
2010 Volvo C30: 166 days
2010 Hyundai Sonata: 156 days
2010 Volvo C70: 128 days
2010 Toyota Tundra: 128 days
2010 Ford F-450: 127 days
2010 Mitsubishi Eclipse Spyder: 123 days
2010 Dodge Ram 1500: 114 days

Cars.com Picks
2010 Toyota Camry: 80 days
2010 Nissan Versa sedan: 90 days
2010 Mitsubishi Lancer Sportback: 99 days
2010 BMW 135i coupe: 100 days
2010 Toyota Yaris sedan: 106 days

About the Lists
The Movers and Losers list reports the average number of days it takes to sell models from the day they arrive on the lot until the final paperwork is signed by a buyer. This is not a days-of-inventory list like you may find on other sites. We're now focusing on only the 2010 and 2011 model years.

For Movers, we only list vehicles that pass a certain threshold of sales in order to weed out limited editions, ultra-high performance cars and others that might skew the numbers or otherwise inaccurately portray popularity. For Losers, we have removed any threshold to now reflect phased-out models because many shoppers might be looking for an outgoing model year to match with a greater incentive.