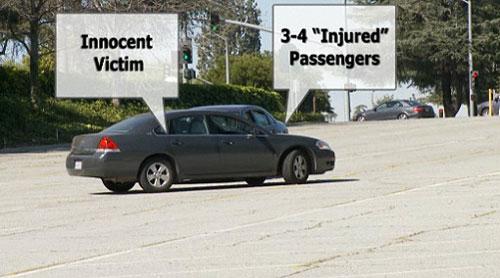 More crooked drivers are using staged accidents to make false insurance claims, according to a report from the National Insurance Crime Bureau. From 2007 to 2009, questionable claims rose 46% even though claims for personal and bodily injury fell.
This could reflect the poor economy as people look for quick ways to make a buck by defrauding insurance companies. The drivers often target innocent drivers, drawing them into collisions and collecting on the staged accident. The increased costs for insurers eventually show up in the premiums of all law-abiding drivers.
Even worse, from 2007 to 2009, 71,452 people died in car collisions — a reminder that these con artists are putting people's lives in danger in an attempt to earn a dishonest buck.
The most populous states are predictably the ones with the most staged accidents: Florida, New York, California, Texas and Illinois. Florida seems to have a particularly bad problem, as the top cities for staged accidents include Tampa, Miami and Orlando, along with New York and Houston.
The National Crime Insurance Bureau has this helpful video list to demonstrate common types of staged accidents.
Staged Accident Claims on the Rise (AOL Autos)