Suzuki Kizashi Tops in Satisfaction Survey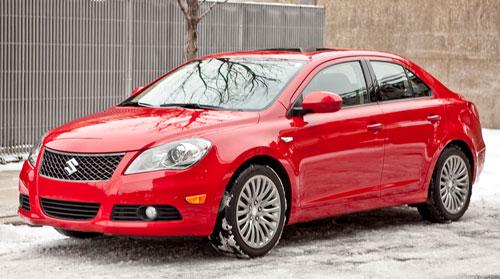 Suzuki is celebrating the Kizashi's first-place finish in AutoPacific's 14th annual Vehicle Safety Awards for the midsize segment. Despite the name, the award isn't for safety but overall satisfaction for new vehicles.
Scoring 99 points above the industry average, the all-new sedan finished first among all 2010 model year vehicles in the survey. The poll asked 42,000 new vehicle owners how they felt about the car they just purchased or leased.
With competition like the Toyota Camry and Honda Accord, it's impressive that the Suzuki newcomer managed to elbow its way so quickly into consumer's hearts.
As far as brands go, though, GM was the big winner. Cadillac had the highest satisfaction for a premium brand, and Buick took the top slot for popular brands.
Check out the full list of winners in individual segments after the jump.
Passenger Cars
Premium Luxury Car — Lexus LS
Aspirational Luxury Car — Hyundai Genesis
Luxury Midsize Car — Nissan Maxima
Large Car — Ford Taurus
Premium Midsize Car — Honda Accord
Midsize Car — Suzuki Kizashi
Premium Compact Car — Volkswagen GTI
Compact Car — Nissan Cube
Economy Car — Honda Fit
Sports Car — Porsche 911
Sporty Car — Chevrolet Camaro
Hybrid Car — Mercury Milan Hybrid
Light Trucks
Heavy-Duty Pickup — Dodge Ram HD
Large Light-Duty Pickup — Ford F-150
Compact Pickup — Honda Ridgeline
Luxury Sport Utility — Cadillac Escalade
Large Sport Utility — Ford Expedition
Premium Midsize Sport Utility — Nissan Pathfinder/Toyota 4Runner
Midsize Sport Utility — Dodge Nitro
Premium Luxury Crossover — Lincoln MKT
Luxury Crossover SUV — Lexus RX
Large Crossover SUV — GMC Acadia
Premium Midsize Crossover SUV — Ford Edge
Midsize Crossover SUV — Ford Escape
Compact Crossover SUV — Hyundai Tucson
Minivan — Honda Odyssey
Hybrid Truck — Lexus RX 400h