'Voltageville' Gets First Public EV Rapid Charger in U.S.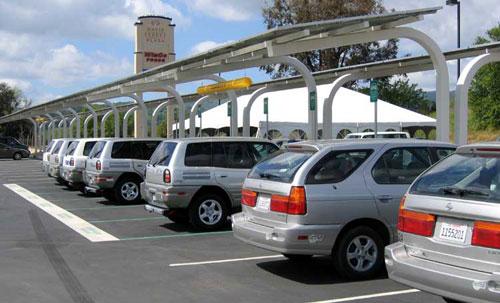 Vacaville, Calif., nestled midway between San Francisco and Sacramento, just installed the first 50-kilowatt quick-charging station for electric vehicles in the country. Known as "Voltageville," Vacaville has more electric car charging stations per capita than any other city in the U.S.
The DC quick-charge station was installed by Pacific Gas & Electric with a grant from the California Air Resources Board. PG&E has a Mitsubishi i-MiEV in its fleet and installed the charger in conjunction with the automaker to demonstrate the technology. The station charges the i-MiEV's 16 kilowatt-hour battery pack to 80% capability in 30 minutes or 50% in about 10 minutes.
The station is in the city's solar-powered EV parking lot, where electric cars can charge up through solar-powered stations.
The i-MiEV goes on sale in 2011, but Nissan will likely offer a compatible inlet for the DC quick charger with its all-electric 2011 Leaf. Until then, Mitsubishi's EV is the only one that can utilize the station, further demonstrating the need for a standard connector for rapid charging.
Vacaville, Calif., Gets First Public Electric Car Rapid Charger in U.S. (Hybrid Cars)