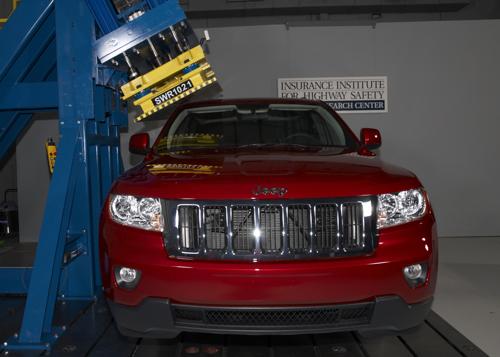 The Insurance Institute for Highway Safety tested 12 new midsize SUVs with its new rollover crush strength requirement, and only six passed.
Of the six, five earned the Top Safety Pick award, which means they received the top score of Good in front, side, rear and roof crash tests and are equipped with stability control.
Although the Jeep Liberty and its Dodge Nitro twin had the best results for roof strength at five times the weight of the vehicle, they rated Acceptable and Marginal in rear and side crash tests, respectively.
The five new Top Safety Picks are:
2011 Jeep Grand Cherokee
2011 Kia Sorento
2010 Chevrolet Equinox
2010 Toyota Highlander
2010 Toyota Venza
The lowest-scoring vehicle in the test was the new Honda Accord Crosstour at 2.82 times its weight. Federal roof-strength standards are currently 1.5 times the weight of the vehicle; a new standard of three times the vehicle's weight will take effect Sept. 1, 2012.
IIHS' roof-strength tests are more stringent; even the Accord sedan scored an Acceptable rating at 3.87 times its weight. (To earn a Good rating, the roof must withstand a force of four times the vehicle's weight.) The Crosstour's 600 pounds of added weight likely doesn't help its cause here.
The 2010 Ford Edge — a redesigned 2011 model is planned for a summer release — scored Acceptable for roof strength, while the 2010 Mazda CX-7, Nissan Murano, Honda Pilot and Mitsubishi Endeavor all scored a Marginal rating like the Crosstour.