2011 Ford Fiesta: Love/Hate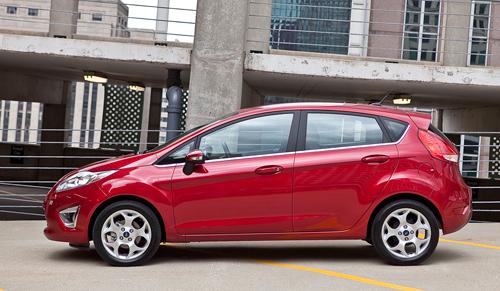 When I found out I'd have the Ford Fiesta hatchback for a weekend trip to western Michigan in which I'd have two passengers plus our luggage, I was skeptical we'd make it there in comfort. Would my friend in the front seat spend two hours with his suitcase in his lap? Would the person in the backseat need to be unfolded from an accordion position once we reached our destination?
Although I wouldn't recommend this subcompact for a cross-country road trip with four adults, I can report we made it to our destination without a single passenger complaint. As long as you're not packing for more than a long weekend, the stylish hatchback handles gear with relative ease. But its surprising space wasn't what I liked best.
Love: Fuel economy
It was so nice to be able to set out from Chicago with half a tank of gas knowing I wouldn't have to scan highway exit signs for gas stations. If a hybrid car is out of your budget, the Fiesta's EPA-estimated combined mileage of 33 mpg would be a godsend for a daily commuter. I averaged about 34 mpg with mostly highway driving, but keep in mind the car was loaded down with three people and luggage.
Hate: Automatic transmission in stop-and-go traffic
Hate might be too strong of a word in this case. The automatic transmission bothered me, but it wouldn't prevent me from purchasing a Fiesta or anything. The six-speed automatic is actually a dual-clutch transmission meaning it uses two clutches, instead of a manual's single clutch, for better fuel economy. For the majority of the drive, this transmission setup functioned beautifully. However, in the occasional traffic jam or while pulling out of a toll plaza, I'd depress the accelerator only to have the transmission lag a few beats while it clearly tried to figure out what gear it wanted to be in. The lag wasn't present when accelerating gradually, but don't expect to make any quick maneuvers from a standstill.
Cars.com Review: 2011 Ford Fiesta