2011 Volkswagen Jetta: First Look
If the previous-generation Jetta was accused of resembling a Toyota Corolla, the completely redesigned 2011 model, which is slated for sale this October, seems to mimic more upscale sedans like those from BMW. That's not a bad thing, but the best news from today's unveiling of the 2011 Jetta is its starting price of around $16,000, which is significantly less than the current model and puts it right at the Chevy Cruze's starting price and below the new Jetta-like Suzuki Kizashi at $18,999.
Along with the price, its looks also could draw in shoppers. Gone is the deep Audi-esque grille; it's replaced by a more traditional slotted look. Traditional — nay, boring — may be the term to best describe the new Jetta's styling, but it should serve to be an improvement over the outgoing model.
Also getting a big change is its overall size. The 2011 is 182.7 inches long, which is 3.4 inches longer than the 2010. That's just slightly behind the Kizashi at 183.1, but it's shorter than traditional midsize sedans like the Ford Fusion at 190.6 inches.
Related
2011 Volkswagen Jetta: First Drive
Cars.com Podcast: 2011 Chevy Cruze, 2011 VW Jetta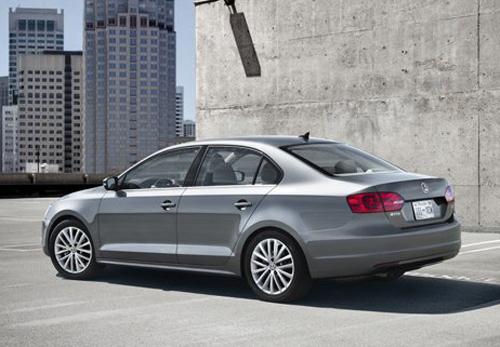 The wheelbase is also longer. This creates an additional 2.7 inches of rear legroom, bringing that number up to 38.1 inches. That's more legroom than the Fusion and some other midsize sedans. There's no word on trunk size, but the current Jetta's 16 cubic feet is sizable. Using the Fusion again as a comparison, it comes in at 16.5 cubic feet and is about average for midsize sedans.
The Jetta will be powered by a choice of four engines, including the 2.0-liter turbodiesel that has made the current TDI such a success. However, it's the inclusion of a smaller 2.0-liter four-cylinder engine making 115 horsepower for the base model that brings the starting price down so low. Mileage ratings for this engine haven't been released. Even the current Golf only offers a larger 2.5-liter five-cylinder engine, which is also the base engine in the current Jetta. That engine will also be available at launch with a turbocharged 2.0-liter four-cylinder slated for a later introduction.
A hybrid model is planned for 2012, but details are scarce. Expect it to achieve sub-Prius mileage.
Trim designations will be S, SE, SEL and TDI for the diesel and GLI for the 2.0 turbo. A manual transmission will be standard on all models with a six-speed DSG automatic available on the TDI and GLI.No other transmission specs were given at this time.
The interior looks relatively upscale in these photos, but VW is hoping to snag more entry-level buyers with the low starting price and engine choice than with its top-of-the-line models.