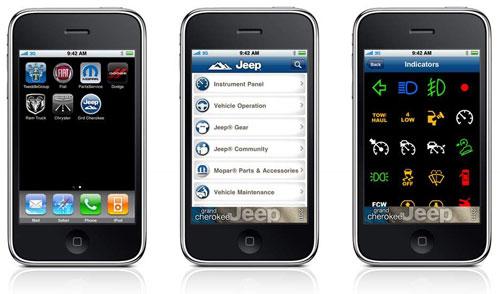 Today, Chrysler became the first but surely not the last to announce the creation of a smart phone app capable of downloading vehicle information that covers warning lights, maintenance schedules, warranties, video demonstrations of features, social media access to other owners, customer service, roadside assistance and instructions for the navigation system.
The free app will be available on Saturday for the 2011 Jeep Grand Cherokee, but by the end of the year it will be available for all Chrysler, Jeep and Dodge vehicles. Chrysler anticipates that customers will prefer to search for vehicle information on an iPhone rather than digging around in the glove box or a storage bin for the owner's manual.
Furthermore, you don't have to be an owner to download and appreciate the app. Potential buyers can access all kinds of information about a vehicle they're interested in.
The app was developed by Tweddle Group and is available only on the Apple iPhone right now. It will soon become available on BlackBerry and Android devices, as well.
Chrysler Launches Smartphone Apps (Detroit News)