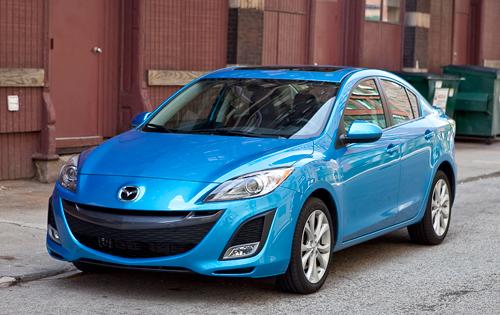 While the new Mazda3 has lots of advantages over my own '02 Protegé, there are just enough changes for the worse that I wouldn't pick that car today if I were looking for a second car for my family.

Back in 2002, I needed a car that I could commute solo 90 miles a day, five days a week, but I also needed a car that could carry all three kids and my wife if need be. The backseat offered plenty of room, or at least enough room that the kids wouldn't kill each other.

Fast-forward to last week, and the Mazda3, which certainly is way more contemporary — and decked out to the nines — had a backseat that wasn't comfortable for my three teens, or even the three smaller kids I had back in '02. And yes, we know the 2010 actually has larger interior dimensions, sometimes those numbers don't equal real-world testing with real-live bodies that don't like being next to each other.
Don't get me wrong: There's plenty to like in the Mazda3s I tested, the most obvious being its powerful engine, and easy-to-use manual transmission. This particular Mazda3 had leather seats (heated!), built-in navigation and a pretty decent stereo. Let me digress here: If you're going to sell a car with nav and heated leather seats, spring for the USB iPod connection; we know it doesn't cost all that much, and assume that people who'd buy this car loaded to the teeth are going to want to listen to their iPod while they're blasting their way through the countryside.
The biggest difference between the two cars: The Protegé ran me around $15,000 back in '02; the Mazda3 with the 2.5-liter engine stickers out above $24,000. Now, of course, this isn't apples to apples. You can get the smaller engine in the Mazda3i S, modestly equipped at $17,005 including destination. Add on eight years of inflation and the fact that the Mazda3 has more safety features, more power and slightly better fuel economy, and well, there's less to argue with.
Still, this Mazda3 seemed odd all dolled up, and it's hard for me to put my finger on it. My natural (and very American) instinct is to want a larger car for that much money (and not just for backseat room). The Mazda6 we tested in our $25,000 Family Sedan Shootout was nicely appointed, and it stickered at not much more than this Mazda3.
In the end, while the driver in me would love the Mazda3, the Dad in me finds this newer version of my reliable Protegé too cramped and too rich for this family.