Mileage Challenge 6.1: Subcompacts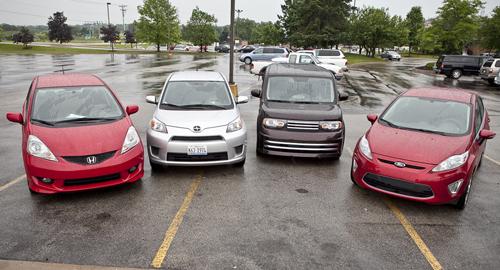 For those who want to downsize into a smaller car, there are now significantly more options to do so and not be left in a bean-sized and shaped econo-box. Enter our most recent mileage challenge where we picked four examples of such cars, including the 2011 Ford Fiesta SES hatchback, 2010 Honda Fit Sport, 2010 Nissan Cube Krom and 2010 Scion xD.
This group of subcompact cars demonstrates that you don't have to sacrifice many features when downsizing or looking for a budget buy; our Mileage Challenge contenders come with power windows and locks, air conditioning, antilock brakes, side curtain airbags and more. As we discovered while driving these cars in the city and on the highway during disaster-movie-like weather, some don't drive like a small car, either.
All eyes were on the Fiesta because it's a new contender in the segment and has a lot to prove, including backing up its highest-of-the-group 38 mpg highway rating. A 40-mpg version is available but not tested here. Of our Mileage Challenger contenders, the Scion xD and Honda Fit Sport have the second-best highway rating of 33 mpg; the base Fit is rated at 35 mpg on the highway. The Cube rounds out our group with an EPA-estimated 31 mpg highway. You can see a breakdown of each car we had in the fleet and how they measure up below.
As we've reported in previous mileage drives, the disclaimer with every mileage rating is, "Your mileage may vary," and it's no joke. We've tested some cars that easily surpass their rating, and others that don't come close. You'll just have to stay tuned until tomorrow to find out if these subcompacts delivered on their promise.
2011 Ford Fiesta SES hatchback
1.6-liter four-cylinder and six-speed dual-clutch automated manual transmission
29/38 mpg city/highway
Starting price: $13,320
As tested: $19,165
2010 Honda Fit Sport
1.5-liter four-cylinder and five-speed automatic transmission
27/33 mpg
Starting price: $14,900
As tested: $19,110
2010 Scion xD
1.8-liter four-cylinder and four-speed automatic transmission
27/33 mpg
Starting price: $14,900
As tested: $16,439
2010 Nissan Cube Krom
1.8-liter four-cylinder and continuously variable automatic transmission
27/31 mpg
Starting price: $13,990
As tested: $21,070
Mileage Challenge 6.2: The Results