Nissan Leaf to Go On Sale in December in Select Markets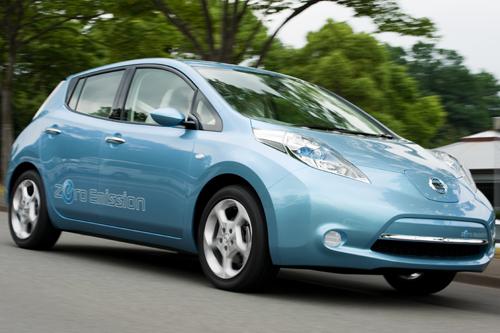 In a not-so-surprising move to take some limelight away from the Chevy Volt, Nissan has released information regarding the target launch of its 2011 all-electric Leaf.
The Leaf will launch in December — again, not a surprise since that's right on the heels of the Volt's initial launch. The Leaf will initially be available in California, Washington, Oregon, Arizona and Tennessee. These states are a part of the EV Project, a partnership between the U.S. Department of Energy and private firm ECOtality to establish EV infrastructure, such as charging stations. This makes the aforementioned states the most suitable staging grounds for the Leaf's initial offering.
The five states represent nearly 55% of total Leaf reservations, and early adopters will be able to place firm orders for their EVs starting in August.
In January, Texas and Hawaii will get the Leaf. North Carolina, Florida, Georgia, Virginia, Maryland, South Carolina, Alabama and Washington, D.C., will follow in spring 2011. The rest of the nation will have to wait until fall 2011 to get their hands on a Leaf.
If you still have cold feet about this whole EV revolution, you might want to try renting a Leaf first before you buy one. According to The Associated Press, Enterprise Rent-A-Car will buy 500 Nissan Leafs that will be available to rent in January in the following cities: Seattle; Phoenix; Los Angeles; San Diego; Tucson, Ariz.; Knoxville, Tenn.; Nashville, Tenn.; and Portland, Ore.