Suburban Dad: The Great Drive Midwest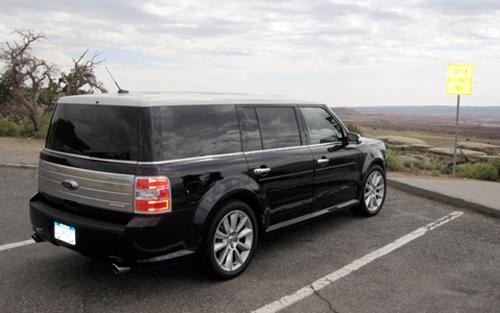 This summer I didn't pack up the family for a cross-country, multiple test-car excursion. If you don't recall my past summer cross-country excursions with family in tow — I'm still trying to forget myself — you can check them out
here
and
here
.
Instead, this year's endeavor has more of a focus: My father is moving back to Chicago to be closer to us, and this trip entails packing up all of his stuff and leaving Los Angeles, his home for virtually all of the last 50 years. My elder son is coming along to help pack and move. My nephew is coming along as well.
We'll be making the trip this time in a Ford Flex Limited, complete with the EcoBoost engine and the Sync entertainment system. What else is in it?
Leather (heated) seats; we didn't need the heated portions, of course
Sirius satellite radio and Sync-connected weather info, movie times and gas prices
All-wheel drive
Panoramic roof (not much use to us since we were carrying cargo, not people, in the back)
Sticker price without destination charges: $45,245
Here's the game plan: leave Los Angeles and drive through Vegas to Richfield, Utah, on Day 1. On Day 2, we make it all the way through the Rockies to stop at the in-laws in Denver. On Day 3, we make it to Omaha, Neb., before finally arriving home on Day 4.
Total distance is 1,999 miles, according to MapQuest, in four segments. Because I drove the Flex two years ago on our vacation, I'll be comparing how the newest EcoBoost version compares with the debut model. My family has been in the Flex a couple of times and been happy with it, so this should be promising.
2010|Ford|Flex