What Affordable Car Works Best With iPod?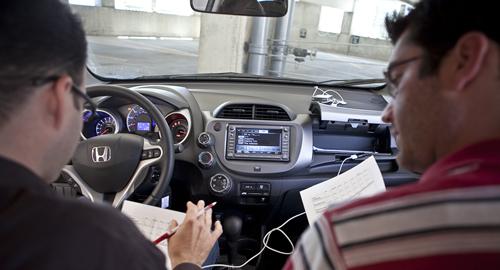 The iPod — on its own or as part of the iPhone — is the go-to music accessory for most car owners. Automakers have paid attention and integrated iPod connectivity via digital means, namely USB ports. But not every model does as good a job as others.
That's what we tested when three affordable, USB-equipped models came into our fleet for a mileage challenge: the 2011 Ford Fiesta, 2010 Honda Fit and 2010 Scion xD. And after the long drive, not everyone was impressed with these cars' aptitude for rocking a playlist. Editor Joe Bruzek and I took them out back to the digital shed to get down and dirty.
We didn't go about this lightly. We brought an iPod Classic, an iPhone 3G, a generic MP3 player from iRiver and a USB flash drive loaded with songs to see how well each vehicle handled music playback. We even used complicated scoring sheets that we dutifully filled out but the scores were so close and so lackluster they only illustrated that
none
of the contenders won us over.
Let's get you non-iPod folks out of the way early: Only the Fiesta with Ford's Sync system worked with the generic MP3 player. Zune owners will also likely have trouble with anything other than a Ford these days.
For iPod owners, though, don't even think the Fiesta is the winner here. Its interface was difficult to read and use. Unlike other Fords with Sync, the Fiesta was built for European customers, and the button layout was uncomfortable for our big, fat American thumbs.
The worst was the Fiesta's steering-wheel controls. There is no volume adjustment, and to get the system to work at all, you need to activate it using a voice button on a separate stalk behind the steering wheel. Ford's acclaimed voice command system works well, but having to say "Play USB" every time you want to switch on your iPod is a tad annoying. Sync is standard on SES models but is part of a $595 option package on the lower SE trim level.
Honda and Scion have more conventional layouts that we preferred, but neither was flawless. The Fit's USB integration is standard in the Sport model – it isn't available on base models, even as an option -- but it's routed through a more expensive navigation package that includes stability control at a whopping $1,850 price tag. That said, the fancy-schmancy navigation package comes with a big touch-screen that is easy to read and also fits the most characters on the screen (27 characters compared with 19 in the xD and just 16 in the Fiesta). That made reading artist names like Them Crooked Vultures a lot easier.
However, every time we went to change a song or setting via the touch-screen, there was a delay. You tapped the the screen, it acknowledged your tap, then … wait for it ... then it made the selection. That was highly aggravating.
The Scion xD with its Alpine aftermarket head unit at $449 looked out of place in this comparison — it looked like something you'd get at Best Buy — but the controls and scrolling worked well. The small display was a touch-screen, which, while surprising, was just too tiny to use while driving. Both the Scion and Honda had volume controls on the steering wheel.
In the end, both of us were aggravated by something different in each car, and none won us over. Next time we take on USB integration, we'll bring in at least one Hyundai or Kia because their standard system easily competes or beats these three. And we will look at a Ford designed in the U.S. for our fat thumbs.