2011 Ford Fiesta Earns IIHS Top Safety Pick Award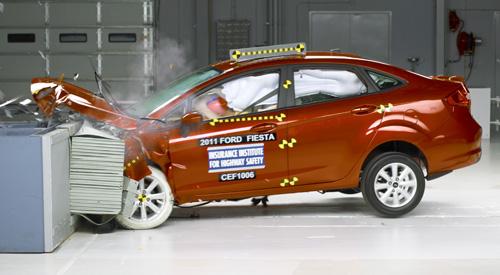 The 2011 Ford Fiesta won the honor of Top Safety Pick in the minicar category by the Insurance Institute for Highway Safety. The award applies to the four-door sedan and five-door hatchback body styles.
To earn the award, a vehicle must receive the top rating of Good in front, side, rear and rollover crash tests. The vehicle also must have electronic stability control, which is standard on the Fiesta.
Measurements taken from the dummies used during the Fiesta's testing show a low risk of significant injury in a 40 mph offset crash (pictured above).
The 2011 Fiesta is the only car in IIHS' minicar category to be awarded a Top Safety Pick since the new roof-strength test took effect. Vehicles like the 2010 Honda Fit and 2010 Toyota Yaris perform well in front and side crash tests, but their Acceptable rating for rollover/roof strength prevents them from becoming Top Safety Picks. Vehicles like the 2010 Chevrolet Aveo received a Marginal rating in the rollover test. Poor is the lowest score on the four-tiered scale.
To pass IIHS' roof-strength test, a vehicle's roof must be able to withstand the force of four times the vehicle's weight. The Fiesta sedan can withstand an outstanding 5.42 times its own weight and the hatchback 5.05 times.
The Top Safety Pick award applies only to Fiestas built after July 2010, after Ford made design changes to strengthen the outside door handles to reduce the chance of the doors opening in a side impact. Ford built 15,537 Fiestas before that change took place.
2011|Ford|Fiesta