Movers and Losers: July 2010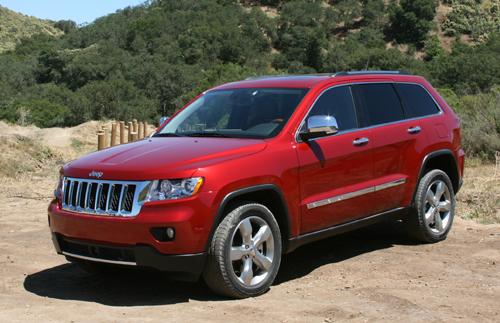 There's no question what the most important vehicle on this month's Movers list is: the 2011 Jeep Grand Cherokee. Chrysler has a lot riding on its redesigned Grand Cherokee, and it seems to be selling quickly, with just nine days on lots. This brisk pace is what we've seen from other highly anticipated new models. Even if it is the "norm," it's still a positive sign that Chrysler is on the same track as automakers that haven't been through the rough years Chrysler has encountered.

The Ford Fiesta also sold quickly, but more so in hatchback configurations. The new Buick Regal just made the list, selling in just over two weeks.

The average number of days it took to sell a new 2010 or 2011 ticked up one day from 55 in June to 56 in July. The average for May was 50 days.

On the Loser list, shoppers may be interested in trying to find a deal on the slow-selling Cadillac CTS SportWagon or the soon-to-be-deceased Mercury Milan Hybrid. We also list five of our picks. These cars take longer than the average to sell, but they would be solid buys.

The full lists and our criteria are below.

July Movers
2011 Audi Q5: 8 days
2011 Ford Fiesta hatchback: 8 days
2011 Mercedes-Benz GLK 350: 8 days
2011 Audi A4: 9 days
2011 Ford Fiesta sedan: 9 days
2011 Hyundai Tucson: 9 days
2011 Jeep Grand Cherokee: 9 days
2011 Buick LaCrosse: 11 days
2011 BMW 535i: 12 days
2011 Chevrolet Malibu: 12 days
2011 Chevrolet Traverse: 12 days
2011 Porsche Cayenne: 12 days
2011 Subaru Legacy: 12 days
2011 BMW X5: 13 days
2011 Chevrolet Camaro: 13 days
2011 GMC Acadia: 13 days
2011 Subaru Outback: 13 days
2010 GMC Terrain: 14 days
2010 Chevrolet Equinox: 15 days
2011 Buick Regal: 15 days

July Losers
2010 Mitsubishi Lancer Sportback: 207 days
2010 Scion xD: 150 days
2010 Ford Transit Connect: 136 days
2010 Mazda RX-8: 130 days
2010 Jeep Commander: 124 days
2010 Cadillac CTS SportWagon: 119 days
2010 Mercury Mariner Hybrid: 108 days
2010 Mitsubishi Galant: 107 days
2010 Kia Optima: 106 days
2010 Toyota Yaris sedan: 104 days

July Cars.com Picks
2010 Toyota Yaris hatchback: 79 days
2010 Mercury Milan Hybrid: 78 days
2010 Suzuki Kizashi: 77 days
2010 Acura RL: 77 days
2010 Hyundai Elantra Touring: 76 days

About the Lists
The Movers and Losers list reports the average number of days it takes to sell models from the day they arrive on the lot until the final paperwork is signed by a buyer. This is not a days-of-inventory list like you may find on other sites. We're now focusing on only the 2010 and 2011 model years.

For Movers, we only list vehicles that pass a certain threshold of sales in order to weed out limited editions, ultra-high performance cars and others that might skew the numbers or otherwise inaccurately portray popularity. For Losers, we have removed any threshold to now reflect phased-out models because many shoppers might be looking for an outgoing model year to match with a greater incentive.