Reader Review of the Week: 2011 Toyota Sienna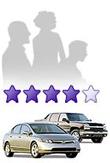 "Rick from Texas," who is in San Antonio, wrote some waxing prose regarding his new 2011 Toyota Sienna XLE. So far, Rick is thrilled with the Sienna's well-appointed interior, stereo system and maneuvering ease. However, Rick does caution that this minivan rides like, well, a minivan and not like a Porsche or Corvette. We'd hope you'd know that already.
Hit the jump to read Rick's admittedly long review. Once you're done, write your own review here.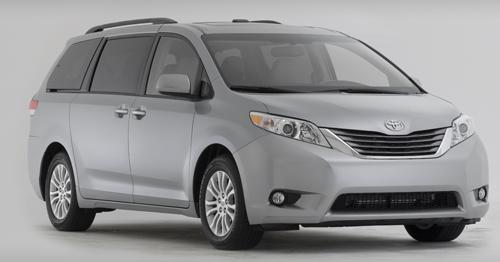 "We drove a Honda Odyssey and enjoyed the vehicle. We were almost ready to ink the deal, but said we needed to at least look at the Sienna first. We did and we never looked back.
"The interior is larger and much more spacious than the Honda. This is primarily due to the ability to move the second row seating using a slide and glide system that allows you to push back the seating, which makes viewing the dual 18 inch video monitor quite easy.
"You can also slide the second row seating all the way forward and up against the front seats and collapse the fold-away third row, and you can [almost fit anything] into a minivan without having to remove the second row seats.
"The van has excellent power with a 266-hp engine. It drives like it's on rails. Many complain that it does not [have] a responsive feedback. I've driven Corvettes and Porsches, and they are correct. The response is not the same, but then again, I'm not sure how often I need to take a turn at 110 mph on a winding test track or open oval. Here's a huge shock to those with this argument: 'It's a minivan.' It handles excellently for that purpose. You turn, and it turns. You can pass, park and cruise on any road at any legal speed with ease.
"The interior is well appointed and the styling is very easy on the eyes. The Honda reminded me of Track Housing and the Sienna was more of a custom model. You know when you are sitting in something that says class, and the Honda says welcome 'Joe Average.'
"That said, there is one annoyance. The van does not have any side body molding. Huh? Get ready for Door Ding city. This seemed like a huge oversight. It's small, but little details do matter.
"The navigation is also a bit clumsy. You have to wait for a beep to give a command and many times you get back the wrong response. The stereo is top-drawer JBL with too many speakers to count. The sound is excellent. The vehicle drives very quiet and the A/C blowers, unless you have them wailing at full blast, are not noticeable.
"The road noise is great, so good in fact our kids complain when we talk as they can hear us over the wireless headphones.
"The car is easy to maneuver. The nav system screen becomes a full 180-degree backup camera, and the bumpers have rear-assist parking sensors.
"There is much more to like such as headroom, iPad and iPod USB, and two [100-volt] normal electrical plug-ins, fog lamps, luggage rack, oh and the back sliding door windows roll down. No kidding. It also has keyless push-button start.
"If you are in the market, you owe it [to yourself] to drive one at least for comparison. We got the XLE and the dealer took several thousand off the MSRP and with the options, the vehicle was over $1,000 cheaper than the Honda with a 72-month bumper to bumper warranty and a full year of free unlimited car washes and free maintenance to 40K miles.
"So if you need Porsche-like handlng and are looking to take the family on thrill rides around Daytona, then this van is not for you, but if you are looking for a top notch luxury ride with room for up to eight with tons of storage, then the van is certainly worth a look."