2011 Chrysler Town & Country: First Look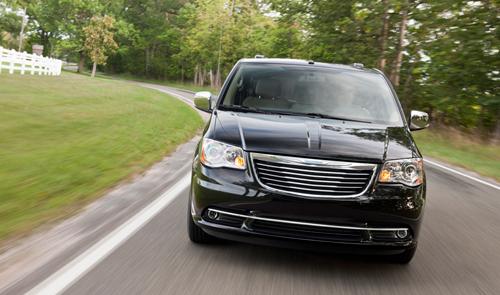 Chrysler revealed a bit more of its upcoming 2011 Town & Country minivan than the Sebring-replacing 200 sedan we detailed earlier. Like the 200, this new Town & Country will go on sale by the end of 2010 and features a slightly updated exterior and a more seriously revamped interior.

We get to see glimpses of that interior in the images below, including an all-new instrument cluster, steering wheel and dash-mounted shifter that all look to live up to Chrysler's claim that the interior is "beautifully crafted." Of course, we need to see it in person to make a final call, but all the announced upgrades sound like they're more significant than just a midcycle refresh to keep sales on pace.
Chrysler's new 3.6-liter V-6 engine will be standard on all 2011 Town & Country vans, replacing two different V-6s from the previous model.
The company also promises more standard features, including blind spot monitoring and rear cross-path detection on all models. The familiar Stow 'n Go seating system also gets an update. Chrysler says the seats themselves are more comfortable – the ones in the current model are definitely on the stiff side – and easier to fold.

Options like Sirius Backseat TV and FLO TV, which we've detailed extensively, will still be offered for 2011.