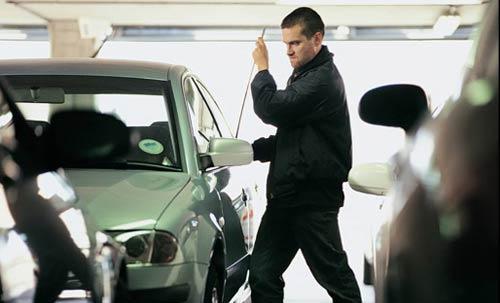 If you're a concerned parent of a teenage driver or worried about your car being stolen, Chrysler has a new device for you.
The Mopar Electronic Vehicle Tracking System helps in theft recovery, and if you're forgetful, the system will tell you where you last left your car as part of the base plan. Move up to the Silver plan and it will tell you via text message when someone is driving your vehicle too fast or too far.
The dealer-installed system will be available on any new or used Chrysler vehicle and other makes, too.
Going beyond what some systems offer, the Chrysler system will offer arrival/departure notification, maps of a vehicle's past locations, 24/7 emergency service dispatch, online tracking and an on-board panic button on the Silver plan.
Third-party competitors like LoJack actually cost several hundred dollars more than the Chrysler system, but that price includes installation, which the Chrysler system does not. In the case of LoJack, the system doesn't give you nationwide detection, so it's possible for someone to drive out a coverage area, rendering the system ineffective. Chrysler's system uses GPS, so its coverage is nationwide.
Systems like GM's OnStar offer the same services, but charge monthly subscription fees. The base plan (simply vehicle recovery) has no monthly fees and is fully transferable; Silver and Gold plans do have yearly customer charges, but they're cheaper than Onstar's two-tiered service plans. The tracking aspects of the Chrysler device are similar to Ford's MyKey system, which is combined in option packages or comes standard on some trim levels of the latest Ford products.
The Mopar system is available on all Chrysler vehicles or any vehicle with a 16-pin data port, which most 1996 model year and later cars have.
Continue reading below for the specifics of each plan and the cost.
Mopar EVTS Base Plan
GPS stolen-vehicle locator service
Real-time GPS stolen-vehicle tracking
$1,000 theft protection warranty
Transferable
Upgradeable
$459 (does not include installation)
Mopar EVTS Silver Plan
E-Call 24/7 emergency service dispatch
Automatic theft notification
On-board panic button
Excessive speed notification
Arrival/departure notification
Historic trace maps of vehicle's past location
Online tracking
Annual fee: $149 (one-year service, renewable)
Mopar EVTS Gold Plan (available only at time of installation)
All features on Silver Plan
Full concierge service (receive directions, make reservations, etc.)
Annual fee: $249 (one-year service, renewable)