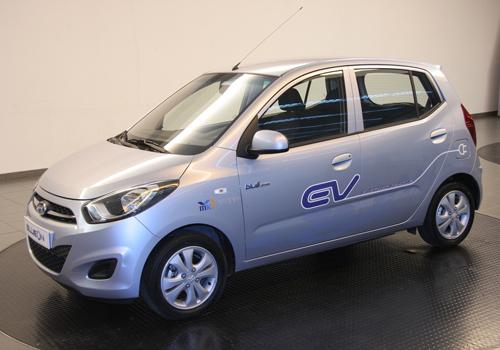 Hyundai unveiled its first all-electric vehicle that's highway capable today in South Korea. Named the BlueOn, it will be able to travel 81 mph and 87 miles on a single charge, according to the automaker. The BlueOn will be able to accelerate from zero to 62 mph in 13.1 seconds.
With a 220-volt plug, the BlueOn's lithium-ion batteries will be fully charged in six hours. There's also a quick charging option, which can charge the vehicle to 80% capacity in 25 minutes.
This is the same vehicle that Hyundai showed at last year's Frankfurt Motor Show. It's based on Hyundai's city car, the i10, which is not sold in the U.S. Sizewise, the i10 sits in between Scion's upcoming iQ and Hyundai's three-door Accent hatchback.
The BlueOn features a pedestrian warning system that's similar to that in the Toyota Prius in Japan and on the 2011 Nissan Leaf.
Of course, the catch with this is Hyundai is not ready to roll out the BlueOn in the same fashion that Chevrolet and Nissan have with their electric offerings, which are on the horizon. Hyundai plans on providing 30 BlueOns to government test fleets in South Korea next month. After that, the automaker plans on building 2,500 units by the end of 2012 and expanding manufacturing capabilities and EV infrastructure for the car throughout 2012.
Most likely, Hyundai will eventually produce some sort of plug-in hybrid for commercial proposes here in the States. Hyundai plans on having a corporate average fuel economy of 50 mpg by 2025. Part of the strategy to achieve that number is to incorporate electric-vehicle technology into the lineup.
Continue below to check out more photos of the BlueOn: