Infiniti Prices 2011 G Coupe, Convertible, High-Performance Model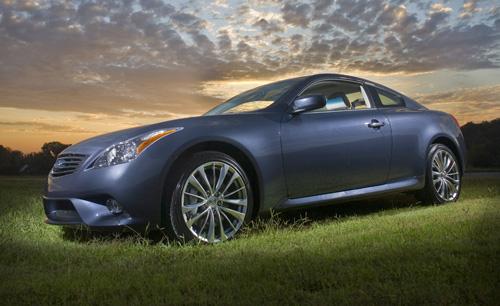 Infiniti has priced its 2011 Infiniti G coupe and convertible with modest modifications and price updates, and it has priced its new high-performance trim, called the IPL series, which we detailed here.
The G37 coupe and convertible get a new front bumper and new 18- and 19-inch wheel designs.
The 2011 G37 coupe comes in at $36,200, a $150 increase from last year. Some features have been shuffled: The Sport Package is now available on all-wheel-drive trims, and the Navigation Package now joins the Premium Package as standard equipment on the Sport trim with manual transmission.
The 2011 G37 convertible starts at $44,500, another $150 bump from the 2010 model year. It gets a new Limited Edition trim with unique content and a red leather upholstered interior for $56,750.
In addition to the G37 updates, Infiniti is unleashing an all-new high-performance lineup, called the Infiniti Performance Line. The IPL coupe will start at $47,950 with a six-speed manual. Pricing for the convertible has not been announced.
Along with the new high-end additions to the G coupe and convertible, the G sedan will get a new bargain-basement G25 edition for 2011, starting at $30,950.
The G25 sedan went on sale this month, and the 2011 G37 coupe and convertible will go on sale in early November, followed by the IPL coupe and convertible in December.
Continue reading below for more detailed pricing.
2011 Infiniti G Series Prices (2010 Prices)
2011 Infiniti G Coupe
Base: $36,200 ($36,050)
Journey: $37,650 ($37,500)
G37x AWD: $39,300 ($39,150)
Sport with manual transmission: $42,400 ($40,400)
2011 G37 Convertible
Base: $44,500 ($44,350)
Sport with manual transmission: $48,950 ($46,950)
Limited Edition: $56,750
2011 IPL G Coupe
Manual transmission: $47,950
Automatic transmission: $49,850
*Prices do not include a $875 destination charge