More Details on the 2011 Dodge Durango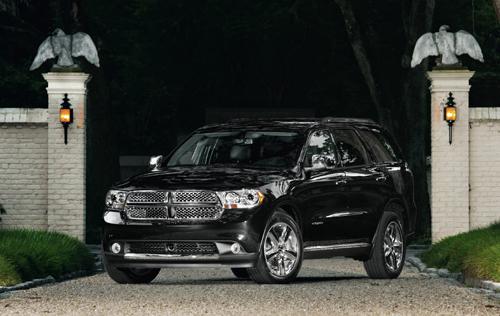 Yesterday, we brought you
a first look of the redesigned Dodge Durango
. After chatting with Ralph Gilles, president and CEO of the Dodge brand, we have a few more nuggets of information on Dodge's newest SUV.
All of the Durango images Dodge released feature a chrome-clad cross-hair grille. In total, there will be three different grilles offered when the SUV hits dealerships late this year. Gilles wouldn't confirm whether a body-colored grille will be offered, though that seems like a possibility, but he did say the chrome one is the top-of-the-line offering.
Dodge released a single interior photo of the Durango's steering wheel with what appeared to be a new Dodge emblem. Gilles says the logo is ornamentation meant only for the steering wheel, and it's intended to be "an abstraction of the grille of the vehicle."
Dodge has adopted some colorful trim names for its models. Case in point is the Nitro SUV, which is available in Heat, Detonator and Shock forms. It looks like the Durango will also have distinctive trim names, one of which will be Citadel. Gilles said the other trims will be revealed soon.
Gilles wouldn't say whether a high-performance SRT version of the Durango is in the works, but he also didn't completely dash the hopes of performance-SUV enthusiasts. "We're going to have fun with this platform. There's a lot we can do," he said.
If you're in Virginia Beach, Va., this weekend you'll be able to see the 2011 Durango for yourself. Dodge is one of the sponsors of the Rock 'n' Roll Virginia Beach Half Marathon, and the Durango will both pace the race and be on hand during the event. It's the first time the SUV will be on public display. If you have a chance to get an up-close look — especially of the Durango's interior — let us know what you think of it in the comment section below.